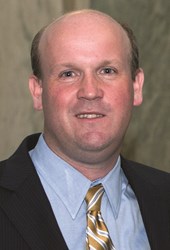 Silver Spring, MD (PRWEB) September 11, 2013
The Security Industry Association (SIA) welcomes the selection of SIA CEO Don Erickson as a top CEO by CEO Update magazine.
In choosing its ongoing roster of top association executives, CEO Update considered the following criteria for CEOs: strong advocacy skills; leadership ability; building a positive workplace culture, inspiring staff loyalty; raising organizational profile; and programmatic achievement, in meetings, membership growth, education or certification.
By naming Erickson as a top CEO in associations and nonprofits from a large number of nominees, CEO Update recognized Erickson's role in helping to grow SIA's membership and raising its lobbying profile on Capitol Hill. Erickson also has found new ways to get information to SIA Members. He oversaw the launch of SIA Technology Insights, a new journal for technology end-users, and he helped establish the Fiscal Year Informer, a publication dedicated to analysis of the federal budget process.
Under Erickson's watch, SIA launched a new webcast series on IT issues, which "furthered SIA's brand significantly within the industry," a nominator told CEO Update.
"It's an honor to be recognized by CEO Update, particularly given that I've been in my job for less than two years," Erickson said. "It's been a critical time for the security industry, especially with regard to providing quality education for the next generation of security leaders, setting direction for the industry through standards activities and finding ways to strengthen the whole industry through collaboration with other organizations. But credit here is really due to an active and engaged SIA Board of Directors and the talents, creativity and commitment to our membership that our staff demonstrates every day. SIA Members should be very proud of the entire SIA team."
Erickson has been CEO of SIA since November 2011. Previously, he served as SIA director of government relations. During this time, he worked closely with SIA's leadership to build a robust government relations program for SIA Members and served as SIA's chief advocate before Congress and other government agencies. He serves on the ASAE Key Issues Advisory Committee, the Mission 500 Advisory Committee and the SecuritySpecifiers.com Board of Directors.
The Security Industry Association (http://www.securityindustry.org) is the leading trade association for electronic and physical security solution providers. SIA protects and advances its members' interests by advocating pro-industry policies and legislation at the federal and state levels; creating open industry standards that enable integration; advancing industry professionalism through education and training; opening global market opportunities; and collaboration with other like-minded organizations. As a proud sponsor of ISC Expos and Conferences, and owner of the Securing New Ground Conference, SIA ensures its members have access to top-level buyers and influencers, as well as unparalleled learning and network opportunities.