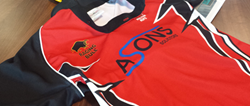 Bolton, United Kingdom (PRWEB UK) 17 September 2013
The deal will see Asons Solicitors as the principal shirt sponsor, supporting over 100 children and families throughout the life of the deal.
Commenting on the sponsorship, John King, Head of Marketing at Asons Solicitors, said that:
"Many kids in Bolton turn to sport as a means to socialise, and to get out of the house; unfortunately there aren't many clubs out there, and of the few that are open, many lack the funds and support to cater for all of those that would like to play.
"Sport is a great way for children to develop and grow, building confidence, whilst teaching respect and camaraderie. It's constructive and great for their health, so it's important that youth sports clubs get the support that they need to continue their great work within the community."
As a local family law firm, Asons Solicitors does a lot of work with the local community and hopes to do more for worthy causes. In May, Asons became the Principal sponsor of the Bolton School Cricket Team, adding to their collection of shirt sponsorships. They've also formed recent ties with other community support groups and charities, such as Bolton Hospice and the Bolton Lads & Girls Club.
Speaking on the impact of the deal, Practice Manager, Imran Akram commented that:
"Bolton's youth rely on clubs and activities to keep them out of trouble; sport inparticular gives them something constructive to do, getting them out of the house.
"As a company that offers work experience, apprenticeships and graduate placements, it's good to get the brand out there early, so that when these aspiring minds make their way into the professional world, they think of us when searching for their first job. We're committed to providing best-in-class training and development programs, putting Bolton's youth on the road to success when they choose a career with us."
As a successful youth team, Bolton's U16s will be seen taking their 'A Game' to Fleetwood, Marple, Ormskirk and other locations across the North West.
Speaking on their partnership, the team's Head Coach, Peter Gore, stated that:
"With the amount of exposure we get against other teams and indirectly with friends and families, we saw this as a great opportunity for Asons Solicitors to further their community work, whilst demonstrating their commitment to local good causes. I'm delighted to have them onboard and I hope that our work continues to produce great rugby players and some exciting matches.
"Rugby Union is in a fantastic place right now, what with the in the buildup to the British Lions Tour of Australia and the coming World Cup in 2015; I hope that we can both benefit as the coverage of these events reaches a head"
To find out more about Asons Solicitors, their CSR work and their current apprenticeship and employability schemes, visit them at http://www.asons.co.uk

About Asons Solicitors:
Asons Solicitors is a Bolton-based law practice that specialises in personal injury and industrial disease claims. Founded by brothers Imran Akram and Kamran Akram, Asons Solicitors has developed to become a young and dynamic law firm that delivers practical solutions to clients in times of difficulty. Their continued focus on their staff has seen them awarded with the Investors in People "Gold Award"; which is reflected in the professional and personable approach they take in working with clients. They strive to grow and to develop, and their supportiveness and attention to detail ensures that their clients use them time and again.
For further information contact:
Email: info@asons.co.uk
Website: http://www.asons.co.uk