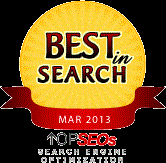 The company consistently scores high across a wide range of Internet marketing variables and is known for delivering world-class customer service.
TEMPE, AZ (PRWEB) September 12, 2013
Helix House, a well-managed and highly successful Internet marketing firm that continues to expand its presence announces ongoing nominations for best Internet marketing agency. The company continues to impress industry observers with outstanding customer service and high quality Internet marketing products and services. TopSEOs.com as well as BestCompaniesAZ.com and others have nominated Helix House has a company that delivers on its promises of offering outstanding Internet marketing campaigns and strategies.
The company consistently scores high across a wide range of Internet marketing variables and is known for delivering world-class customer service. Helix House Internet marketing services covering a full range of strategies designed to improve the Internet exposure and visibility of virtually any type of business are world class. From search engine optimization techniques to text and e-mail marketing as well as video production and social media strategies, Helix House continues to impress with regard to effective Internet marketing. In addition, the company offers value-added services such as website development and improvement on existing websites.
Improving existing websites means working to help businesses identify weaknesses and improve those weaknesses to ensure the greatest success possible with regard to search engine results. From basic navigation elements to standard user interface issues and the overall quality of textual content, Helix House helps businesses improve their website. The company knows and understands that search engines consider the quality of a website in determining how relevant that website is with regard to a specific niche market or subject. Developing strategies to improve the overall functionality of a website is just one element in creating a powerful online presence.
Equally important with regard to expanding an online presence is ensuring that proper linking strategies are adhered to on a routine basis. Helix House understands linking strategies and implements only the most ethical and transparent procedures possible to ensure that businesses achieve the highest levels of trust with regard to search engines. Quality tools and strategies along with dedicated account representatives and world-class customer service ensures that businesses achieve the best in terms of Internet marketing when they choose Helix House. Multiple nominations and recognitions of Helix House across a wide spectrum of Internet-based observers is clear and concise evidence that this is the Internet marketing company to keep an eye on over the long term.
Helix House is a highly innovative forward looking online marketing agency located in sunny Arizona and breezy New Mexico that has consistently exceeded industry expectations to routinely rank highest among some the best online marketing companies in the country.