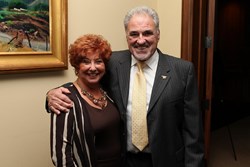 We look forward to putting the funding to work to help improve employment and career opportunities for those who served our country.
Costa Mesa, CA (PRWEB) September 11, 2013
A recent $2 million grant from the Department of Veterans Affairs Supportive Services for Veteran Families Program (SSVF) is being celebrated today by grant partners Volunteers of America Los Angeles, Working Wardrobes and the Public Law Center at a National Day of Service & Remembrance event, in honor of 9/11.
The grant, awarded to Volunteers of America Los Angeles (VOALA), will be used to fund collaborative veterans' services provided by partners Working Wardrobes, and Orange County pro bono law firm, Public Law Center.
"This is the first SSVF grant of significance to be awarded to Orange County to support local veterans," said Jerri Rosen, Founder and CEO of Working Wardrobes. "We're thrilled the VA is committed to assisting veterans here in our community and look forward to putting the funding to work to help improve employment and career opportunities for those who served our country."
Bobby Ortiz, VOALA's Assistant Director of Program Development, says the SSVF grant supports the organization's mission of providing more services in the Orange County area to help veterans in need.
"Today, many veterans in Southern California live on the streets for a variety of reasons such as substance abuse, mental illness, unemployment, and a lack of affordable housing, among others," said Ortiz. "This grant is absolutely essential as we help veterans who have experienced homelessness get off the street and into their own apartments, and it will also prevent many veteran households from becoming homeless in Orange County. The myriad challenges of veteran homelessness are difficult but not intractable. Collaboration and partnerships like this are essential if we hope to end veteran homelessness."
Ken Babcock, Executive Director and General Counsel of Orange County's Public Law Center, says the funding is paramount in helping veterans who can't afford quality representation to overcome legal challenges.
"Many of our clients are unemployed or underemployed veterans facing issues such as bankruptcy, benefits, eviction or foreclosure, which also serve as roadblocks after returning from service," said Babcock. "Just as those clients bravely fought for us, this grant will help us in our fight for them whether in the courtroom or the conference room."
Harry Humphries, retired Navy SEAL and executive director of the Working Wardrobes' VetNet program—a safety net for veterans that provides career training and employment services for vets facing difficult challenges post-war, was on-hand at today's event to talk about the importance of VetNet and to honor local veterans and their families in attendance.
"I'm well aware of the traumas of war and the struggles our veterans face when they return home," said Humphries. "We created VetNet to give veterans a fighting chance—to improve the difficult employment and economic issues they face, and to help them find jobs and to provide for themselves and for their families. It's the absolute least we can do in return for what they've done for us."
Today's memorable Patriot Day event included success stories shared by former VetNet clients, as well as a moving color guard presentation by UMAVA (United Mexican American Veterans Association).
About Working Wardrobes
Working Wardrobes is an independent nonprofit organization that strives to empower men, women, veterans, and young adults overcoming difficult challenges to confidently enter the workforce and achieve self-sufficiency. The organization provides career training, job placement assistance, and professional wardrobe services in an environment of dignity and respect.
Since 1990, Working Wardrobes has grown to serve over 60,000 men, women, veterans, and young adults overcoming difficult challenges including alcohol and substance abuse, prison re-entry, homelessness, catastrophic illness, and traumatic financial losses. It assists CalWorks recipients, clients of social service agencies, and individuals in 60 shelters or programs in Orange County, Los Angeles, San Diego, and the Inland Empire. The Working Wardrobes social enterprise model serves as an example of self-sustainability to organizations nationwide.
Working Wardrobes' current board of directors includes (in alphabetical order by last name): Ann Cairns, Cox Communications; Jeff Coats, Autobytel, Inc.; Anna Conrekas, US Bank; Vicki Dallas, Buchalter Nemer; Mandi Dossin, DGWB; Chris Dyer, People G2; Harry Humphries, GSGI, Inc.; Stephen Kelley, Health Essentials; Darryl Martin, Sentinel Offender Systems, LLC; Emily Reynolds, ADP; Jerri Rosen, CEO, Working Wardrobes; Kim Shepherd, Decision Toolbox; Linda Smith, Union Bank; Sandy Theriault, UPS; Patrick Tillich, Park West Landscape; and Mike N. Vo, Miss Professional Nail.
MEDIA CONTACT
Jerri Rosen – jerrir(at)workingwardrobes(at)org
Working Wardrobes
714-210-2460