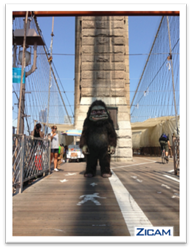 Bridgewater, NJ (PRWEB) September 13, 2013
The Cold Monster®, the infamous star of the Zicam® Cold Remedy television commercials, took Manhattan by storm – or by sniffles. The bleary-eyed, snotty-nosed Cold Monster® represents how a full-blown cold makes you feel. And each of us knows all too well that every monster of a cold starts with a Pre-Cold®, that first sniffle, sneeze or throat tickle that signals you've caught a cold. He spent two days at several landmark locations in New York City for the shoot of the latest installment of Cold Monster® Chronicles on YouTube (http://www.youtube.com/zicam).
The new videos will round out the Chronicles series with the character depicting how he prepares to deliver a monster of a cold to people this season. Develop your game plan by knowing his. "He's around 7 feet tall, so it is great to see onlookers' reaction to him. People are drawn to him; he's captivating," says Lori Norian, vice president of marketing for Matrixx Initiatives, maker of the popular Zicam® Cold Remedy line of cold-shortening products. "The same way the Cold Monster® is a big presence when you come down with a cold, he's a big presence in person."
When taken at the first sign of a cold, Zicam® Cold Remedy (Zicam® RapidMelts®, Chewables, and Oral Mist™) is clinically proven to shorten a cold so you can go from Pre-Cold® to no cold, faster™. Expect the Cold Monster® to return to television in the fall, but you can see him getting in shape for the upcoming cold season now on the brand's YouTube channel (http://www.youtube.com/zicam). And check out his antics on the brand's Facebook page (http://www.facebook.com/zicam).
About Zicam® Cold Remedy Products
While most cold medicines are designed just to mask cold symptoms, ZICAM® Cold Remedy is COMPLETELY DIFFERENT®. ZICAM® Cold Remedy products, which contain proprietary formulations of active ingredients zinc gluconate and zinc acetate, actually reduce the duration of a cold when taken at the first sign of a cold (within the first 24 hours) and used as directed. ZICAM® Cold Remedy is for a PRE-COLD®, that first sniffle, sneeze or ache that signals that a full-blown cold is coming.
About Matrixx Initiatives, Inc.
Matrixx Initiatives, Inc. has been engaged in the development and marketing of better ways to feel better through over-the-counter health care products that utilize innovative drug delivery systems for over 20 years. Acquired by HIG Capital in February 2011, Matrixx Initiatives, manufactures and markets ZICAM® brand homeopathic and allopathic OTC products, including its clinically proven line of ZICAM® Cold Remedy RAPIDMELTS® and Ultra RAPIDMELTS ® and ZICAM® Cold Remedy Oral Mist™, as well as ZICAM® Allergy Relief, ZICAM® Extreme Congestion Relief, ZICAM® Intense Sinus Relief, and ZICAM® Naturals Cough Suppressant. For more information regarding Matrixx products, please visit http://www.zicam.com.