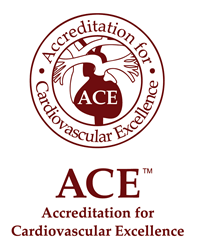 Peer Review is our key to being the best physicians we can be, to improve our performance and outcomes. The question is: are you performing well?

Joseph D. Babb, MD, FSCAI
East Carolina Heart Institute, Greenville, NC
Washington, DC (PRWEB) September 12, 2013
The last round of Accreditation for Cardiovascular Excellence (ACE) E3: More Than Peer Review video series, taped during the 2013 Society for Cardiovascular Angiography and Interventions (SCAI) Scientific Sessions in Orlando, FL, will be released this week. Peer Review: A Physician's Perspective with Joseph D. Babb, MD, FSCAI, East Carolina Heart Institute, Greenville, NC, affirms expert, external review as an important educational process if correctly delivered. "Peer Review is our key to being the best physicians we can be, to improve our performance and outcomes," said Dr. Babb. "The question is: are you performing well?"
Noting that systems of care are increasingly complex, "…it becomes a challenge for all of us to practice at the highest level while keeping with expert opinion and evidence-based guidelines," said Dr. Babb. ACE cardiology peer review experts recommend a process that is performed, discussed and implemented at all levels and amongst all disciplines within the cardiovascular program. The most objective method for validating a peer review program is to partner with an organization that includes cardiology expertise such as the ACE E3 Expert External Evaluation program.
Speak with the experts at ACE to learn more. Visit the booth at Scripps Clinic 24th Annual Cardiovascular Interventions, October 2-4, 2013 in La Jolla, CA. Relevant sessions include:

Live Cases 3 & 4 From Scripps Clinic, 4:00 – 6:00 p.m.
o Do Appropriate Use Criteria Impact Patient Care or Just Documentation of Patient Care? Paul S. Teirstein, MD, FACC, FSCAI.
Live Cases 13 & 14 From Scripps Clinic, 7:30 – 9:30 a.m.
o Quality Champions Will Save Interventional Cardiology, Christopher J. White, MD, FACC, FSCAI, FAHA, FESC.
We hope to see you there!
Click the following link to view Dr. Babb's statements:
Peer Review: A Physician's Perspective
About Accreditation for Cardiovascular Excellence
ACE, an independent organization sponsored by the Society for Cardiovascular Angiography and Interventions (SCAI) and the American College of Cardiology Foundation (ACCF), offers independent evaluation and monitoring of facilities that provide cardiovascular care. By reviewing facility and operator performance and comparing clinical decision-making to nationally accepted best practices, ACE peer review and accreditation services plays a critical role in continuous quality improvement programs. Learn more at http://www.cvexcel.org.