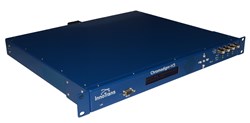 " We believe the ChroMux solution is significantly superior to other approaches and will bring huge benefits to cable operators", said Mani Ramachandran, InnoTrans CEO
(PRWEB) September 24, 2013
San Jose, Calif., August 22, 2013 InnoTrans Communications' (http://www.inno-trans.com) introduces its ChroMux 16 wavelength node segmentation suitable for deep HFC segmentation architectures
The ChroMux solution utilizes InnoTrans' innovative Chromadigm full band transmitter with its patented chirp free and clipping mitigation technology to transport 32 wavelengths, 16 downstream and 16 upstream, on a single fiber in the 1550nm C band window. The ChroMux full band node segmentation solution provides operators with the ability to do node segmentation in both forward and reverse directions on one fiber. For passive systems, a sixteen wavelength full band of analog and digital signals can be transported up to 30 Km, while an all-digital QAM loading can be transported up to 50 km. Further reach can be obtained with optical regeneration using InnoTrans' I-HUB field optical amplifiers (EDFAs).
"ChroMux provides cable operators with a powerful solution to deploy deep HFC node segmentation and fiber reclamation, which can be seamlessly converted to Fiber Deep or RFoG architectures without taking down the existing network. We believe the ChroMux solution is significantly superior to other approaches and will bring huge benefits to cable operators", said Mani Ramachandran, InnoTrans CEO. ChroMux can support a variety of 1550nm ITU channel wavelength plans and is not restricted by any propriety wavelengths unlike other solutions, making it a very flexible and potent system. With its unprecedented performance, capacity, flexibility and reach, it redefines node segmentation. The ChroMux solution allows operators to significantly reduce operating costs and clearly establishes InnoTrans leadership position in multi wavelength fiber reclamation solutions.
Some key ChroMux features:

Up to 16 wavelengths in the 1550nm C-Band optical spectrum
Up to 30 km full load analog plus digital for passive networks
Up to 50 km reach with an all QAM channel loading for passive networks
Flexible wavelength plans
SNMP Monitoring
The ChroMux solution has successfully completed qualification testing with a tier 1 MSO and is approved for supporting their planned Deep Fiber Segmentation Architecture. InnoTrans Communications is the first vendor to complete the qualification approval process for this operator.
About InnoTrans
InnoTrans Communications (InnoTrans) leads the cable industry's transformation to the use of multi-wavelength transport, enabling broadband providers to multiply the efficiency of their core fiber network by 8-16X. InnoTrans' patented technology provides unmatched performance, signal quality, scalability and reach. Chirp free transmission facilitates distance independent performance, enabling service providers to execute a "deploy once, deploy right" strategy. Service providers can now reclaim core fibers to deploy business services across their entire network, significantly reducing capital expenditure. InnoTrans' ITU compliant solutions are compatible with all existing nodes and can be seamlessly extended to Fiber Deep and RFoG.

InnoTrans was founded by the former Synchronous engineering team in 2006
Engineering team introduced 1310nm and 1550nm technologies in 1988 and 1992 respectively, DWDM and digital return in the late 1990's.
Awarded BGR 4.5 Diamond Award its Chromadigm transmitter in 2010
Sole Source Multi Year Recipient at a top 5 MSO
BTR 4.5 Diamond Award Recipient in 2012 for Adaptive Return Transmitters
InnoTrans Communications is based in San Jose, California. http://www.inno-trans.com
Media Contact
Harj Ghuman
InnoTrans Communications, Inc.
T: 678-333-4239
F: 408-705-4910