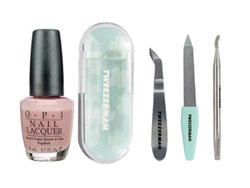 My mother always told me not to cut my cuticles but to push them back, now I know she was right!
(PRWEB) September 14, 2013
The truth every manicure lover has been questioning for years is whether or not it is okay to cut cuticles. The answer is "no", this is no wives' tail. Cuticles act as a protective layer and cutting them exposes nail beds to bacteria and can lead to swelling and infection. Going forward, have cuticles pushed back instead of nipping them away. Another truth is that light nail polish colors make hands look younger. Dark colors tend to accentuate wrinkles and discoloration while light colors have the opposite effect.
On the other hand, some rumors to be squashed include the fact that nail polish has been accused of being toxic. Popular nail polish brands have officially banned the use of the ingredients in question, including formaldehyde, dibutylphthalate, and toluene altogether. In addition, nails do not need a break from polish to "breathe". Nails are dead keratin cells and as long as they look and feel healthy, there is no need for a manicure hiatus.
A rumor that actually brings up a safety concern is something to be weary of. Those UV lamps used to dry gel manicures emit harmful UV rays. Beauty gurus at TheBeautyPlace.com recommend using a sunscreen with SPF for the hand massage to protect delicate skin from the lights. What is true about those gel manicures is that they have the tendency to dry nails out. This may be caused by the light, or additional acetone needed for removal, but either way extra moisturizer is necessary to maintain that gel mani.
With all of these gnawing questions answered, proceed to the salon with confidence.