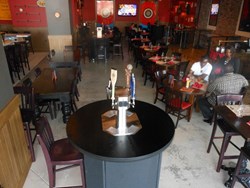 The industry is ripe for dispense change
Phladelphia PA (PRWEB) September 12, 2013
The PourMyBeer team has been innovating the self-serve beer and wine product space now for a number of years, but it seems that the tech world has finally made it official with their recent inclusion in Wired Magazine, known primarily for breaking stories on emerging technology and how they affect culture, politics and the economy. The article lists eight of the top bar technologies including ice cube makers, digital music and facial recognition software as well as the self-contained beer dispensing tables offered by PourMyBeer, headquartered out of Philadelphia.
"It's pretty exciting for us to be featured by the leading tech magazine out there," said Declan Duggan, owner and co-founder. "We figured we might make their radar by next year but we have been featured on Spike TV's "Bar Rescue" this year and have enjoyed many local TV and media pickups because of the product innovations we have brought to the table this year." Duggan was referring to their mobile wine wall and a combination beer and wine wall that has been designed and prototyped for roll-out with a large undisclosed hotel chain.
"Our main business had been in delivering to bars and restaurants to this point but we have seen great interest from the hotel channel and larger chain restaurants now as the system functionality has improved and we can provide them with all kinds of great consumer data," he continued. "A few years ago, tables like this only poured beer for groups. In fact, some other systems out there are still limited to that, but our system can show you anonymous customers (though they can be linked to an email address for internal marketing purposes if the customer allows), their drinking history and preferences. All these features are what separate us from the herd and make it the most desirable product in the market right now and, most likely, why Wired decided to include us in the article."
As well as the innovations mentioned above, they have designed a stadium specific unit and one for cruise lines as the channel opportunities have presented themselves.
"The industry is ripe for dispense change; the consumer is happy to pour their own beer or wine sample so they have no wait time and can pour the size they want, the bartender can focus on delivering better service and cocktails and the owner wants more inventory control while offering more choice. It's a win all round," he concluded.
http://www.pourmybeer.com is an Innovative Tap Solutions Company. The company was formed in MD in 2008 and made the first commercial mobile self-serve beer tables in the U.S. It also sells and distributes built-in beer walls, mobile beer walls, mobile wine walls, built-in draft tables and mobile self-serve tables. All mobile equipment is proudly made in the U.S.A. Contact sales (at) pourmybeer (dot) com or call 215-219-9203/443-691-2337.