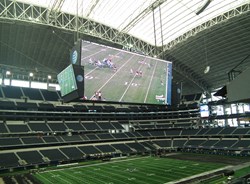 "The feedback we received was outstanding. I am sure people will love it more and more with every game." - Replay Technologies CEO, Oren Haimovitch-Yogev
Dallas, Texas (PRWEB) September 13, 2013
The innovative, "Watch As You Want" technology had viewers closely watching last Sunday's nationally televised game between the New York Giants and Dallas Cowboys. Replay Technologies Inc, who created the revolutionary "freeD" sports replay system, was extremely elated with the NBC broadcast using its signature product, branded as "NBCeeIt360" for the Sunday primetime game.
Final numbers of the Giants vs. Cowboys 'Sunday Night Football' game averaged 25.4 million viewers to rank as primetime television's most-watched show last week (Sept. 2-8).
"I am very excited we presented freeD to millions of NFL viewers with Sunday Night Football," commented Replay Technologies CEO, Oren Haimovitch-Yogev. "The feedback we received was outstanding. freeD is the most innovative way to watch and understand this sophisticated game, and I am sure people will love it more and more with every game."
"freeD" is set to be available for two more upcoming football games at AT&T Stadium and broadcast on NBC: Notre Dame vs. Arizona State (Saturday, Oct. 5); and, Washington Redskins at Dallas Cowboys (Sunday, Oct. 13). Additionally, fans attending Cowboys games at AT&T Stadium this season will have access to "freeD" replays on the scoreboard, as well as on local programming throughout the season. The technology will also be accessible for other TV networks at AT&T Stadium.
Tacticam "freeD" technology is short for free dimensional video. "freeD" uses 24 high-speed cameras that are strategically placed throughout AT&T Stadium to show never-before-seen viewing angles in each red zone. Cameras capture every red zone angle, covering the 20-yard line to the back of each end zone, giving viewers a full 360-degree vantage point. Replay Technologies partnered with Teledyne DALSA and ThinkLogical to build a similar system at Yankees Stadium, and the groups have partnered again, bringing a more improved camera system to AT&T Stadium in Arlington, Texas.
ABOUT REPLAY TECHNOLOGIES, INC
Our vision is to power the next big revolution in video by using our proprietary freeD™ technology to create novel viewing experiences. We believe that ultimately the viewing experience of most broadcast related events, from sports to news to film, will be freed from the limitation of what had been shot by physical camera, raising both the storytelling possibilities and the user immersion possibilities to whole new levels.
We aim to disrupt the fundamental operating cost structure for broadcasting, cinema and other fields (biomedical, security, TV viewing, etc.) by implementation of the concept of placing viewing angles and un-manned cameras where none existed in reality. For more information, visit: http://www.replay-technologies.com or http://www.seeFreeD.com
FOR MORE INFORMATION CONTACT:
Replay Technologies Inc.
Oren Haimovitch-Yogev
oren(at)replay-technologies.com
+44(0)7944032363
FieldHouse Marketing
Preston Phillips
prestonp(at)fieldhousemarketing.com
+1-214-287-7776