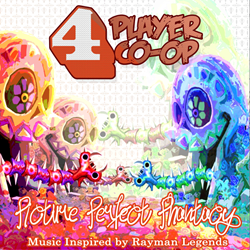 'What drives our business is the passion to create beyond the usual marketing repertoire and seek artistic innovation on every level,' says Mortensen.
Los Angeles, CA (PRWEB) September 17, 2013
Video game publisher Ubisoft® and Silicon Beach creative agency New Science Agency have announced a legendary music collaboration for the release of the game 'Rayman Legends'. "Picture Perfect Phantasy" was written and performed by Incubus' founding members Dirk Lance and Jose Pasillas II, along with former Pharcyde MC Slimkid3 and Jurassic 5's DJ Nu-Mark under the group name '4 Player Co-Op'. A music video for the song is available now on the Ubisoft YouTube Page here.
"Kudos to the team at Ubisoft for believing in our vision," says Kyle Mortensen, CEO & Creative Director of New Science Agency. "This was a big idea that came together rather quickly. Ubisoft gave us creative freedom to produce an original song that incorporated elements from the game, both musically and lyrically. When you listen, nothing feels forced – it's a seamless experience. All the pieces just fell right into place."
Much like the musical backgrounds of the four-members of '4 Player Co-Op', the track boasts an up-tempo mix of hip-hop, jazz, rock and funk. "What drives our business is the passion to create beyond the usual marketing repertoire and seek artistic innovation on every level," says Mortensen. "Music is a central focus of the game play so we knew that our campaign had to reflect that aspect – it was just a matter of bringing together the right people to do it. We hit the jackpot with Dirk, Jose, Tre and Nu."
This collaboration also marks the first time that Lance and Pasillas have recorded together since Incubus' 2001 monster hit album 'Morning View'. "It's funny," says Dirk Lance, "even though so much time had passed we picked up musically right where we had left off. I guess that's the benefit of having learned how to play our instruments together at such an early age."
Limited Edition Vinyl for Charity
100 pieces of limited edition vinyl featuring the song and an instrumental mix will be auctioned for charity through Incubus' non-profit organization the 'Make Yourself Foundation' in the coming weeks. Jose Pasillas II also designed the cover art.
"I am excited that proceeds from the vinyl will go to the Make Yourself Foundation," states Pasillas. "It felt like a great way to share the love and energy of this project by giving back to those less fortunate."
He adds: "For the cover art I used imagery from the game and was able to come up with a fun and striking scene that coincides with the feeling of the song. Everyone is really happy with how it turned out."
About Rayman Legends
Rayman Legends has been praised for its stunning visuals and innovative gameplay by media and fans worldwide. Rayman Legends was rated a 9.5/10 by IGN calling it "Platforming Genius", while GameInformer and GameSpot rated it 9/10 respectively. In Rayman Legends, a fifth player can join in on the fun by taking on the role of Murfy exclusively on the Wii U™ GamePad controller. All of the game's adventures can be played by up to four players on Xbox 360, PS3 and PC, and up to five players on Wii U.
About New Science Agency
New Science Agency (NSA) is a creative agency specializing in storytelling for brands, expressed through innovative executions that engage consumers beyond traditional media and marketing. NSA's campaigns integrate art & design, online, mobile, experiential, and social strategies that compliment and turbo-charge a brand's traditional campaigns.
About Ubisoft
Ubisoft is a leading producer, publisher and distributor of interactive entertainment products worldwide and has grown considerably through a strong and diversified lineup of products and partnerships. Ubisoft has offices in 29 countries and has sales in more than 55 countries around the globe. It is committed to delivering high-quality, cutting-edge video game titles to consumers. For the 2012–13 fiscal year Ubisoft generated sales of 1.256 billion euros. To learn more, please visit: http://www.ubisoftgroup.com.