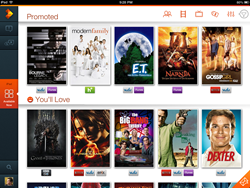 Minneapolis, MN (PRWEB) September 12, 2013
Today, Luma launched the first truly personalized movie and TV experience. With this breakthrough entertainment service, Luma aims to eliminate the wasted time and chronic frustration involved in deciding what to watch and where to watch it.
As users rate, save, and interact with content, Luma learns their preferences and finds the absolute best entertainment to watch. Instead of relying on tenuous and unreliable metadata connections, Luma's patented recommendation algorithm is powered by millions of crowd sourced movie connections and recommendations from friends.
Luma's novel quick social recommendation feature prompts users to recommend things to their friends based on what Luma predicts their friends will enjoy. This facilitates social recommendations like nothing ever seen before. The curated social recommendations and the next generation decision engine combine to make recommendations that no other service can match.
Luma serves up recommendations in a beautiful and intuitive grid that is fun to explore and quick to navigate. Luma's dead simple user interface puts all the info necessary to decide what to watch right at the fingertips of the user.
Before Luma, users had to go to many different services to explore and find items they wanted to watch. Now Luma connects users seamlessly to the content with a comprehensive directory of viewing options. Luma on the iPad is currently integrated with Netflix, Hulu, Amazon Prime, HBO Go, iTunes, Crackle, NBC, The CW, ABC, ABC Family, Max Go, truTV, and Vudu. More sources will be added in the coming months providing access to even more content.
Additional launch features include:

A multi-viewer mode that takes into account all viewers' unique taste profiles to find the best content for everyone to watch together.
A watchlist so viewers never forget a movie recommendation again.
My Shows which allows users to track their progress through a TV series.
The ability to share recommendations, comments, and ratings with friends, all communicated easily within the app.
Luma is available for free from the App Store on iPad at http://www.luma.tv/getluma.
About Luma:
Founded in 2008, Luma is a privately funded firm of talented designers and developers dedicated to driving the personalization revolution. We are based in Minneapolis and we are obsessed with making it fun and easy to discover new movies and TV shows you will enjoy. We are starting with personalizing entertainment and won't stop until everything in your life is customized to your taste profile. Learn more about Luma at http://www.luma.tv. Follow Luma on Twitter at http://www.twitter.com/lumaguide and on Facebook at http://www.facebook.com/lumaguide.