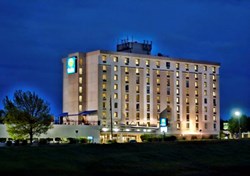 We are constantly working on newer deals and upgrades so that we can keep up with the rising demands....
Little Rock, AR (PRWEB) September 23, 2013
Greenbee Parking (http://www.greenbeeparking.com), a fast growing airport parking service, has announced a series of new deals in the latest upgrades to their web presence. These deals will now allow their customers in Little Rock to avail better and more expansive airport parking options and that too at amazingly cheap Little Rock airport parking rates. As the airport traffic increased over the years, the airport has seen rising demands of various infrastructural upgrades including its parking space. While it takes time for such upgrades to fall in place, passengers cannot help but feel disgruntled for all the problems they face due to lack of space and congestion in and around the airport. Greenbee Parking has stepped in to fill this breach and has fast become one of the chosen service providers for travelers using the Little Rock (LIT) airport. With the new deals, the parking options will increase manifold without any increase in the rates.
"We are constantly working on newer deals and upgrades so that we can keep up with the rising demands and provide the best for all our customers," said Christine Cooper – Marketing Coordinator, Greenbee Parking. "Our clients can get the latest information and updates from our website which is regularly updated. We are happy to announce great savings options for both long term and short term customers this time, all of whom can enjoy our services for very cheap Little Rock airport parking rates."
Bill and Hillary Clinton National Airport Parking Information
Bill and Hillary Clinton National Airport is the largest commercial airport for the state of Arkansas and serves all nearby regions along with the large portion of the state itself. On average it serves around 2.2 million passengers on an annual basis which is a pretty high figure for an airport its size. It connects with 16 cities and has 57 daily departures which keep the airport very busy round the year. With increasing passenger traffic there has been unprecedented rise of ground traffic in and around the airport as well. This in turn, has led to increasing demands of better airport parking options which more space and better rates being the chief demands. Though the authorities are trying their best, till date the passengers have little to commend the airport parking system about.
Things have however, been different since the advent of Greenbee Parking which has completely changed the scene with myriad parking options which are designed to suit the individual needs of travelers who might have either long or short term parking needs. For all of them Greenbee has announced secure options in their latest web upgrades and that too at very cheap Little Rock airport parking rates.
The Greenbee Airport Parking Solution
Greenbeeparking.com is the connection between consumers and parking vacancies in close proximity to major airports and seaports. The parking spaces are very affordable because the company has negotiated discounted rates with major hotel chains for the parking spaces that are not currently occupied. Here's how it works.
Greenbee Parking puts the available inventory of parking spaces on their website to be reserved by business and leisure travelers looking for cheap airport parking. This alternative method for finding parking equates to significant savings for the traveler.
About Greenbee Parking
Greenbee Parking is the nation's most innovative long term parking company, with a new way of making long term parking affordable. The company is rapidly adding new airports to its network.