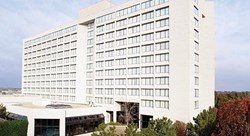 "We want our clients to experience easy and convenient parking options whenever they book through us."
Tulsa, OK (PRWEB) September 24, 2013
Greenbee Parking (http://www.greenbeeparking.com), a rising airport parking firm, has announced a series of new deals at very cheap Tulsa airport parking rates. With this announcement they have opened up yet another new wave of parking experience for travelers using the Tulsa (TUL) airport. The increasing passenger traffic at the airport has naturally led to the rising demand for enhanced parking options at the airport. Lack of adequate parking has not exacerbated the traffic congestion but has also resulted in steep rates which have done nothing to ease travel woes. To top it all, the mad scrambling for space leaves the passengers hassled and worn out even before they have begun their journey. It is with the advent of service providers like Greenbee Parking that some kind of solution could be reached. With innovative parking options at affordable prices, Greenbee Parking has eased these woes to a large extent.
"Our focus has always been optimum client satisfaction and the best of service," said Christine Cooper – Marketing Coordinator, Greenbee Parking. "The new cheap Tulsa airport parking rates are just our way to show that great service can come without steep rates. We want our clients to experience easy and convenient parking options whenever they book through us."
Tulsa International Airport Parking Information
Tulsa International Airport is strategically located near downtown Tulsa which adds to the increasing business travel through the airport round the year. This along with the steady tourist crowd that the airport draws in every year leads to considerably high passenger footfalls here. Tulsa is one of the largest cities in the US and has been known as the "Oil Capital of the World" for a long time now. At present times, the industry here has diversified from the oil sector to other more emerging areas like energy, technology, telecommunications, aviation and finance. The combined early American and Native American heritage of the region is a great attraction for tourists from all over, which further adds to the business of the airport. In the past few years one recurring issue had been the lack of adequate parking space for travelers using this airport but despite all efforts no real solution could be agreed upon.
It is only with the advent of service providers like Greenbee parking that some semblance of order has come into the scene. The company, though young, has already made a name for itself with its innovative parking options, mega deals and amazingly affordable prices for all their customers. It doesn't matter when the client books the space or for how long, Greenbee offers a convenient and safe space for all at very cheap Tulsa airport parking rates (http://www.greenbeeparking.com/OKLAHOMA/TUL).
The Greenbee Airport Parking Solution
Greenbeeparking.com is the connection between consumers and parking vacancies in close proximity to major airports and seaports. The parking spaces are very affordable because the company has negotiated discounted rates with major hotel chains for the parking spaces that are not currently occupied. Here's how it works.
Greenbee Parking puts the available inventory of parking spaces on their website to be reserved by business and leisure travelers looking for cheap airport parking. This alternative method for finding parking equates to significant savings for the traveler.
About Greenbee Parking
Greenbee Parking is the nation's most innovative long term parking company, with a new way of making long term parking affordable. The company is rapidly adding new airports to its network.