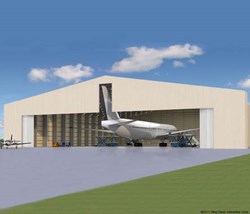 Olympia Steel Buildings pre-engineered steel aircraft hangars are the perfect answer for aviation storage needs
McKees Rocks, PA (PRWEB) September 18, 2013
Universal Steel Buildings has provided a new steel aircraft hangar to airports in both Vancouver and Edmonton Canada as the company promotes their brand to the growing aviation industry. Their Olympia Steel Buildings all steel aircraft hangars are supplied to FBOs, airports, aircraft maintenance companies and repair shops throughout the United States and Canada to meet the aviation industry's demand for buildings that are cost-effective, eco-friendly and impervious to the elements.
The column-free aircraft hangars with 100% clear span interior steel building design provide widths of up to 220 ft. (67.056 m) and unlimited lengths making them ideal for aircraft hangars and FBO facilities to handle even the largest planes flying today. From aviation storage to aircraft maintenance and repair shops, Olympia steel buildings are fully customizable to meet the demanding needs of the aviation industry. The innovative pre-engineered buildings can cut up 50% off the cost and time to build of conventional building construction.
"Just like cars, airplanes and helicopters are best when garage kept," states company president, Arnold Davis. To preserve their investment and keep their aircraft looking new, businesses and individuals are turning to steel buildings for airplane hangars to keep airplanes sheltered from the elements and protected from freezing temperatures, damaging snow, wind and hail storms, dust, and the damaging rays and heat of the sun. "They agree that Olympia Steel Buildings pre-engineered steel aircraft hangars are the perfect answer for aviation storage needs."
The company notes that hangar steel buildings for aircraft hangars are not typical metal buildings, because the aviation industry has specific requirements for metal buildings used as airplane hangars and FBO buildings. Building designers, engineers and construction contractors must have experience working with metal buildings used for hangars in order to manufacture and erect buildings for the aviation industry. The team at Olympia Steel Buildings possesses experienced in all aspects of steel hangars working with both standard hangars and t-hangar designs. Olympia Steel Buildings aircraft hangar buildings are therefore engineered and manufactured to meet or exceed all local building codes, including snow, wind and seismic building code requirements. They have helped hundreds of airports, aviation businesses and individuals to design and engineer versatile steel aircraft hangar buildings for airplane storage with ample space for maintenance and repair.
Another important consideration involves construction costs. Olympia steel buildings can save you up to 50% in both time and material costs compared to conventional construction. All buildings ship direct from the factory delivered to the job site as a ready-to-assemble metal building package. Efficient scheduling, delivery and share-loading of steel buildings reduce delivery costs and save money.
Olympia Steel Buildings of Canada recently supplied steel buildings for two Canadian aircraft hangar projects at the Vancouver Airport and the Edmonton Alberta International Airport through Aero Mag 2000, an incorporated company specializing in planning, design, construction, management and operation of centralized de-icing facilities at various international airports in North America. The former project consisted of a 15,931 ft2 (1,480 m2) airplane hangar utilized as a de-icing facility.
"After the successful install at the Vancouver Airport, we wanted a repeat performance in Edmonton Alberta," said Project Manager Etienne Limoges. "I am comfortable knowing every detail would be managed by Olympia Canadian National Sales Manager John Montgomery."
About Olympia Steel Buildings
Universal Steel Buildings Corp is an industry leader in pre-engineered steel buildings for over 40 years and sole supplier of Olympia Steel Buildings® to commercial, industrial, agricultural, residential, government, military and civilian agencies. Olympia Steel Buildings come with their outstanding weather-resistant PBR roof, or you can opt for their patented Zeus-Shield® standing seam metal roofing system.
GSA approved Olympia Steel Buildings set themselves apart by using better materials, better quality control, exceptional customer service and industry-leading warranties, including a 25-year rust through perforation warranty. Olympia pre-engineered steel buildings and metal buildings systems are precision engineered and expertly erected to give you a "tight" building that reduces air infiltration into the building saving on HVAC costs. They offer 12 energy efficient colors for metal buildings and standing seam metal roofs to reduce cooling costs and come with a 40-year warranty against chipping, cracking, peeling or blistering. Because of such key features, Olympia pre-engineered steel buildings can qualify under LEED Green Building guidelines.
For more information about Olympia Steel Buildings, visit their website http://www.OlympiaBuildings.com or call 888-449-7756 for more information.