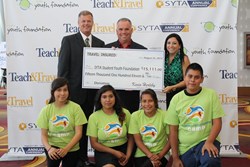 East Hartford, CT (PRWEB) September 12, 2013
Travel Insured International showed its dedication with the Student Youth Travel Association (SYTA) by donating a gift of $15,111 to the Student Youth Foundation, SYTA's philanthropic sister organization. The Student Youth Foundation (SYF) provides financial assistance and travel experience programs that impact the lives of the next generation of global citizens. SYTA is the non-profit trade association comprised of travel agent, tour operator and travel supplier members. Known as "The Voice of Student & Youth Travel ®," SYTA works to foster integrity and professionalism among travel providers serving the student and youth group travel markets.
Kevin Herlihy, Travel Insured's National Accounts Manager, presented the check while in Los Angeles, CA attending the SYTA Annual Conference, to Denise George, Vice Chair of SYF and Kirk Troen, Treasurer of SYF. The 2013 Travel Insured donation was a portion of the bookings for student group travel insurance received from SYTA members during the 2012-2013 youth travel year.
As chair of the SYTA Youth Foundation for 2012-2013, Herlihy stated, "I am so proud of my company and its dedication to SYTA - Student Youth Foundation, by allowing me the time to chair this wonderful foundation and also with its generous donation." Travel Insured International will continue to work to provide the SYTA – Student Youth Foundation with future donations for the 2013-2014 youth travel year.
More information about The SYTA Youth Foundation, a 501C3 philanthropic organization, is found at http://www.sytayouthfoundation.org.
About Travel Insured:
Travel Insured International is one of the largest privately held travel protection companies in the US, and preferred supplier to over 5,000 travel agents, travel consortiums and wholesalers in the US and abroad. As a former division of the Travelers up until 1994, and originator of travel insurance in the US, you can say that the "travel protection" blood lines run deep. Travel Insured International's customer centric claims operation has significant expertise in both domestic and international claims administration.
Travel Insured International
52-S Oakland Ave.
E. Hartford, CT 06128-0568