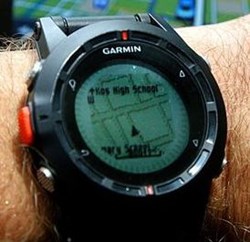 This new firmware update added trackback, 5 second recording intervals and vaulted the Suunto Ambit 2 past the Garmin fenix for best military watch because it now offers more features
Bozeman, MT (PRWEB) September 12, 2013
Suunto Ambit 2 Sapphire with its new 1.5 software update has been named the best military watch for 2013 by the Heart Rate Watch Company.
"This new firmware update added trackback, 5-second recording intervals and vaulted the Suunto Ambit 2 past the Garmin fenix for best military watch because it now offers more features," says Rusty Squire, President of the Heart Rate Watch Company.
NEW FEATURES
"The new firmware update offers trackback, which was key, along with 5-second recording intervals to lengthen battery life in the field in GPS mode and it added sunrise/sunset along with other features," says Squire. He adds, "Adding these items to the more advanced fitness features and easier device navigation put the Suunto Ambit 2 over the top for us".
"This isn't to say we don't still like the Garmin fenix, at $200 less than a Suunto Ambit 2 Sapphire, as it is still a good military option," says Squire. He adds, "With the new features that are mission critical like trackback, and the tougher sapphire crystal, we just feel that the Ambit 2 Sapphire represents the cream of the crop."
CHANGE OF HEART
"We have never before changed positions on what we consider the best watch in a given year but with firmware updates these days the watches are much more dynamic and they evolve with updates," says Squire. He adds, "The one thing that really changed the game was adding trackback to a watch that has the toughest crystal made and loads of advanced features."
Suunto Ambit 2 offers a barometric altimeter, compass, advanced heart rate data, GPS speed and distance, over 1,000 apps and a great training software in Suunto Movescount.
"Suunto GPS watches have a 2-year warranty but the Sapphire is the type of watch I expect to see people with 5 to 10 years from now; it's that rugged," says Squire.
GET ADVICE & SPECIAL MILITARY DEALS
Military personnel can call the Heart Rate Watch Company at 866-586-7129 to get product advice and ask questions. "Our company has long supported the US military and has special military-only deals you can ask about when you call," says Squire. He adds, "If you can't call then just e-mail us at support(at)heartratewatchcompany(dot)com."