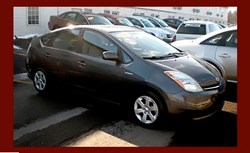 "All our partnerships are focused at further enhancing our services."
Syracuse, NY (PRWEB) September 25, 2013
Greenbee Parking (http://www.greenbeeparking.com), a fast growing airport parking service, has proclaimed Americar Valet Parking as their premier business partner in Syracuse. This has been a strategic move for the young company which is focused at proving more expanded services for their clients across the nation. They are constantly trying to come up with more innovative parking options so that their customers get to choose from a wide variety of options rather than settle for whatever is available and also pay a premium for that. This has been the scenario for a long time till Greenbee Parking came in to completely change the parking experience at Syracuse (SYR) airport. From the very beginning Greenbee has been focused at delivering great service at low rates and their partnership with Americar will now allow them to offer even safer spots for all vehicles at very low Syracuse long term airport parking rates (http://www.greenbeeparking.com/NEW_YORK). Americar offers a Valet Service for the cost of self-parking, which is a great bonus. All one has to do is valet the car and then simply hop onto the shuttle to reach the airport ½ a mile away in leisure, bypassing all traffic hassles.
"All our partnerships are focused at further enhancing our services," said Christine Cooper – Marketing Coordinator, Greenbee Parking. "The alliance with Americar Valet Parking will allow us to offer better options and cheaper Syracuse long term airport parking rates for all our regular customers. We hope to build on this and come up with more features in the near future."
Syracuse Hancock International Airport Parking Information
Syracuse Hancock International Airport is located around 5 miles northeast of Syracuse's central business district and very close to the Interstate 81. With numerous non-stop daily flights to major cities all over the country, Syracuse is the most convenient gateway for those located in Central New York. For an airport its size it has quite a heavy volume of passenger footfalls and airline takeoff and this number has been steadily increasing in the last five years. The strategic location of the airport has made it a convenient hub for both business and leisure travel to and from the state. With more and more corporates moving towards the suburbs for larger space and proximity to the tourist hotspots, SYR is all set to become one of the busiest airports in the nation. Unfortunately, the infrastructural development has not kept pace with the increasing footfalls at the airport and this has led to quite a yawning gap between the demand and supply of parking space here.
With service providers like Greenbee Parking in the scene, there are signs of definite improvement in the situation. They along with their partners, Americar Valet Parking, are all set to revolutionize airport parking here and that at discounted Syracuse long term airport parking rates.
The Greenbee Airport Parking Solution
Greenbeeparking.com is the connection between consumers and parking vacancies in close proximity to major airports and seaports. The parking spaces are very affordable because the company has negotiated discounted rates with major hotel chains for the parking spaces that are not currently occupied. Here's how it works.
Greenbee Parking puts the available inventory of parking spaces on their website to be reserved by business and leisure travelers looking for cheap airport parking. This alternative method for finding parking equates to significant savings for the traveler. These savings are sometimes as much as 75% less than parking at the airport or seaport.
About Greenbee Parking
Greenbee Parking is the nation's most innovative long term parking company, with a new way of making long term parking affordable. The company is rapidly adding new airports to its network.