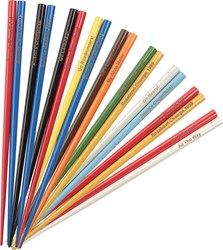 Eugene, Oregon (PRWEB) September 12, 2013
Chopsticks and football? You bet. Fans of the Redskins and 49ers can have personalized red and gold chopsticks. Oakland Raider fan? There are black and silver chopsticks.
These team-colored chopsticks are ready to personalize with a phrase, name and graphic. Fans can choose from a large selection of fonts or type styles.
Add "Go Raiders" to black and silver chopsticks, or "Bills Strong to the Finish" to blue and red chopsticks. Fans can cheer with "Panthers Rule" on black and blue chopsticks, or "Steelers Guard the Yard" on black and gold chopsticks.
Free graphics include sport specific images such as a football and football helmet. Special graphics can be engraved upon request.
Personalized team-colored chopsticks are a unique way for fans to show their team spirit. They can be used as individual gifts, for parties, tailgaters and school events.
In addition, team-colored chopsticks can be combined with personalized paper chopstick sleeves. Sleeves can be printed in full color with almost any graphics, words and design. The sleeves are printed on gloss heavy paper and make an impactful presentation.
Team-colored chopsticks are available for the Cincinnati Bengals, Cleveland Browns, Pittsburg Steelers, Indianapolis Colts, Jacksonville Jaguars, Tennessee Titans, Buffalo Bills, Miami Dolphins, Kansas City Chiefs, Oakland Raiders, San Diego Chargers, Seattle Seahawks, San Francisco 49ers, Arizona Cardinals, Washington Redskins, New York Giants, Dallas Cowboys, Tampa Bay Buccaneers, Atlanta Falcons, Green Bay Packers and the Detroit Lions.
A sampling of popular university colors currently available include Alabama State, Ball State, Boston University, Brigham Young, Brown, UCLA, Carnegie Mellon, University of Colorado, Columbia, Cornell, DePaul, Duke, Florida State, University of Florida, Harvard, University of Houston, Idaho State, University of Iowa, Johns Hopkins, University of Kansas, and Oregon State.
Currently the team-color chopsticks covers about two-thirds of all school and team color combinations. They will be adding to their color options to include about 99 percent of all color combinations by the end of 2013. If a customer does not find the pre made color combination of their liking they can configure their own custom combination.
Everything Chopsticks has been a leading seller of chopsticks in the United States since 2005. They sell over 450 styles of chopsticks from around the world and provide the largest English language information website about chopsticks with over 65 articles on the history, culture, use, and manufacture as well as fun articles on what people do with chopsticks such as building a canoe, pickpocketing and surgery.
About Everything Chopsticks
Everything Chopsticks (http://EverythingChopsticks.com) has been a leading provider of chopsticks since 2005, specializing in quality chopsticks from Asian cultures around the world.