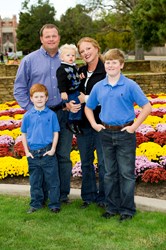 I extend a sincere thank you to the NADCA for giving me this opportunity.
Norman, OK (PRWEB) September 16, 2013
Jim Mitchell of Sooner Carpet cleaning earned his stripes becoming an Air Service and Cleaning Specialist, a qualification few in the state possess.
The certification, administered by NADCA (National Air Duct Cleaners Association) is recognized worldwide as the hallmark of the HVAC industry's most qualified and reliable inspection professionals.
NADCA Executive Directior, Jodi Araujo CEM outlines what it takes to become NADCA certified.
"While achieving the ASCS certification takes commitment on the part of an HVAC professional, the certification itself is a commitment to consumers of reliable, best-in-class service," Araujo said. "NADCA membership and the ASCS certification mean that a professional is dedicated to providing state-of-the-art service to their customers."
Mitchell said he is honored to receive the certification.
"It serves as an added benefit to better service our customers," Mitchell said. "I extend a sincere thank you to the NADCA for giving me this opportunity."
With heightened public awareness of the dangers of indoor air pollution and the need for home energy efficiency, the demand for professional HVAC system cleaning has increased dramatically.  The NADCA Certification Program helps to ensure that members of the association possess the required knowledge and expertise to perform these services in a competent and professional manner.
NADCA and Sooner Carpet Cleaning recommends homeowners and building managers to have their HVAC systems inspected annually and cleaned as needed.  
For more information regarding the benefits of professional performed HVAC inspection and maintenance, contact Sooner Carpet Cleaning at 405-329-8999 or visit them online at http://www.soonercarpetcleaning.com or http://www.soonerwaterrestoration.com. For a detailed explanation of the HVAC system cleaning process visit http://www.nadca.com.