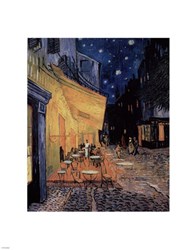 Delray Beach, FL (PRWEB) September 13, 2013
When decorating a restaurant, BandagedEar.com is the go-to source for high-quality art prints. The online retailer and gallery recently added new artworks with themes such as international cuisine, wine and retro food advertisements.
Framed art prints help create an enjoyable ambiance for restaurant patrons. Restaurant owners can choose artwork that matches their restaurant's decor by selecting a specific subject or category that fits their decorating needs. Diner owners will love the vintage hamburger, soda and milkshake posters, while Italian restaurant owners can choose from among posters of lush Italian landscapes or delicious Italian cuisine.
Vladimir Safin, co-founder of BandagedEar.com, said, "Decorating with art prints is a perfect way to add a touch of style to any interior. Restaurant owners will find that our selection of art prints includes something for every type of cuisine."
BandagedEar.com also frames art prints. All art prints are framed in the United States using high-quality materials. Framed art prints can be purchased at a fraction of the cost when compared to local frame shops.
About BandagedEar
BandagedEar is an extensive online wall art gallery and community site where art lovers can shop from among thousands of carefully selected art prints and posters. In addition to high-quality art prints, BandagedEar.com offers free tools to help customers discover new art and artists. A custom frame shop allows customers to choose a high-quality custom frame, which typically costs less than local frame shops. Choose from among millions of different configurations by specifying the frame, matting, cropping and glazing. All purchases are backed by a 100% satisfaction guarantee. Please visit http://www.bandagedear.com for more information.