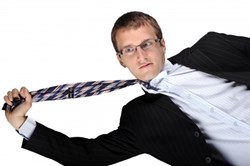 Wake up! Get some new ties!
New York, NY (PRWEB) September 11, 2013
Tiecoon.com has never had a men's tie sale as big as this one. This blowout sale will be on September 14, 2013 from 1-2 pm and the discount is a whopping 50% off all products. So now customers can buy XL ties at the best prices anywhere around. Neckties are not the only thing on sale, but also bowties, skinny ties, hankies, and kid's ties.
Tiecoon.com estimates the most popular of this sale will be the new narrow styles. The once again popular narrow necktie really is the perfect necktie size to wear for all occasions. Tiecoon.com provides this expressive necktie from solid school colors to crazy cool necktie patterns. If the more formal look is needed, check out the hankie page for the matching pocket square.
Tiecoon.com is the spot for the best professional neckties and most popular casual neckwear, not to mention its affordability. Check back often too, every season brings with it new styles and a wider range of products for sale. Tiecoon.com is very thankful to have the amount of support it has and is launching this amazing neckwear to show its appreciation.
"Wake up and get to http://www.tiecoon.com at 1pm on September 14, 2013," says Jesse Pederson, president of TCDC Corporation. "We look forward to launching a neck wear sale that will knock your socks off!"