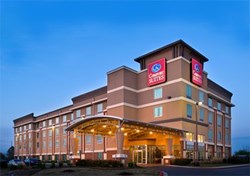 Our goal is to offer such excellent deals that people will forget about looking for Arkansas coupons.
Bentonville, AR (PRWEB) September 26, 2013
Greenbee Parking (http://www.greenbeeparking.com), a growing airport parking service, has brought forth a series of mega deals and new parking offers for all their customers who are using the Bentonville (XNA) airport frequently. They have also announced that their deals can beat all Bentonville Arkansas long term airport parking coupons hands down. A closer inspection proves this to be true as most users have calculated their net savings when they booked with Greenbee Parking. For many of them the savings has been as high as 75% less than what they were paying for the regular parking till now. For a long time the coupons seemed to be the only way to save some money from the steep and rising airport rates which kept creating considerable dents in the travel budgets. However, getting hold of them at opportune moments and redeeming them before they expired seemed too much of an effort; especially as the net savings did not that seem much at the end of the day. Greenbee's advent into the scene however, has changed all that. Now travelers can benefit from their Greenbee booking as they enjoy great prices and great service at the same time.
"Our goal is to offer such excellent deals that people will forget about looking for Bentonville Arkansas long term airport parking coupons forever," said Christine Cooper – Marketing Coordinator, Greenbee Parking. "We are constantly on the prowl for newer facilities and partnerships to change and enhance the parking experience for all our clients all the while keeping an eagle eye on the affordability of the rates."
Northwest Arkansas Regional Airport Parking Information
The Northwest Arkansas Regional Airport serves the counties of Benton and Washington and the cities of Bentonville, Rogers, Fayetteville, Springdale and Siloam Springs. Thus for a smaller regional airport it sees a high volume of passenger traffic round the year, from both business and tourism perspectives. It sees nonstop daily service to all the major cities across the nation and brings in an equal number of travelers for the fast growing Northwest Arkansas region. Naturally, with such high figures and which are constantly going up, providing adequate parking at the airport has been quite a challenge. Fortunately, with services like the ones available from Greenbee Parking has made it possible for travelers using this airport to opt for better and safer parking for their vehicles at very cheap rates. Now they don't have to depend on Bentonville Arkansas long term airport parking coupons to save on their airport parking and travel budgets.
The Greenbee Airport Parking Solution
Greenbee Parking has effectively bridged the gap between parking problems and solutions at both airports and major seaports. They have tied up with major hotels for available parking spaces at discounted rates which they offer their customers across the nation who can now save up to almost 75% of their parking costs.
All they need to do is visit Greenbee Parking, select their city or airport of choice, choose the parking spot and pay through a secured payment gateway. There is a comprehensive list of airports and parking spots to choose from. Greenbee's wide network makes it possible for every customer who logs in to find a solution.
About Greenbee Parking
Greenbee Parking is the nation's most innovative long term parking company, with a new way of making long term parking affordable. The company is rapidly adding new airports to its network.