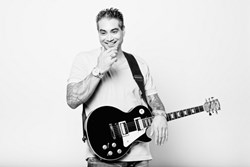 My musical palate is ever-expanding, and I'm glad the internet has given me yet another way to share that with the world.
(PRWEB) September 12, 2013
Aspiring musicians that don't have time for face-to-face guitar lessons or simply don't want to deal with some of the inconveniences that can come with conventional lessons now have other options, thanks to evolving technology. Using a free webcam program known as Skype, guitar teacher Dyce Kimura now offers online beginner acoustic guitar lessons worldwide. From the comfort of their own home, musicians of all levels can be mentored and taught by Kimura. Absolute beginners can also take advantage of Kimura's online beginner acoustic guitar lessons for instant download, which can be an invaluable source for any beginner. The instant download will make it easy for beginners to refer to basic acoustic lessons again and again. As such, beginners can take full advantage of live lessons with Kimura after practicing with the video file that was available to them for instant download.
In addition to Kimura's announcement of acoustic lessons and services available to beginners, he also launched a discounted pricing plan for all students interested in Skype guitar lessons. The Skype guitar lessons, which are either 30 minutes or one hour in length, have been discounted as follows: a single, one-hour lesson is available for $50, or students can save 10 percent by purchasing five lessons for $225. For ultimate savings and 20 percent off the retail cost, students can purchase a 10-lesson pack for only $400. Students looking for shorter virtual lessons can also take advantage of Kimura's discounted pricing for 30-minute classes. For only $30, Kimura offers one 30-minute lesson. Additionally, Kimura will be offering five lessons for $135 (a 10 percent savings) and 10 lessons for $240 (a 20 percent savings). Not only are these virtual guitar lesson packages perfect for anyone looking to channel their inner musician, but they make the perfect gifts for loved ones as well.
Guitar teacher Dyce Kimura is based in South Florida and offers face-to-face lessons in the Hollywood and Fort Lauderdale areas, but aspiring musicians no longer have to be local in order to take guitar lessons from Kimura. He has since expanded his customer base and shares his gift with people from all around the world by offering one-on-one guitar lessons through the online chat program Skype. For those interested in learning more about online lessons with Kimura or taking classes with him in person, be sure to visit him on the web at http://www.skypeguitarlessonsonline.com. When inquiring, be sure to mention this press release to receive discounted pricing.