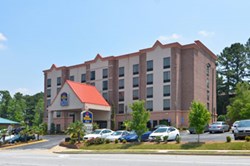 We have always focused on optimum customer satisfaction.
Atlanta, GA (PRWEB) September 27, 2013
Greenbee Parking (http://www.greenbeeparking.com), a dynamic young airport parking firm, has been heralded as a preferred choice for travelers in the latest Atlanta long-term airport parking reviews. The young company is making waves across the nation for their innovative options and increasing modes of parking which has ensured not just safety but also more affordability for all. For a busy airport like Atlanta this is even more important and beneficial because no amount of infrastructural expansion can really match the enormous footfalls that the airport sees on a daily basis. It is by working hand in hand with services like Greenbee Parking that one can offer definite value and adequate choice to all travelers. An increasing number of airport authorities around the country are beginning to see the benefit of working with them and perhaps this is one of the reasons for their rapid expansion. They have been a boon for both travelers and authorities alike.
"We have always focused on optimum customer satisfaction along with maximum savings options for all," said Christine Cooper – Marketing Coordinator, Greenbee Parking. "The Atlanta long term airport parking reviews have validated our efforts and have given us further impetus and motivation to work harder and come up with more innovative and path breaking parking solutions in future."
Hartsfield-Jackson Atlanta International Airport Parking Information
The Hartsfield-Jackson Atlanta International Airport ranks high as one of the top airports in the nation and in the world. It is large, in dimension, in services, in air, freight as well as passenger traffic. The airport is a hub for all major airlines and sees hundreds of flights taking off and landing on a daily basis. It connects with most major cities across the world as well as across the country. It acts as a popular gateway to the southern hotspots as well as on the Caribbean Sea. Because Atlanta is also home to major MNCs and industries, business travel too factors high here. Since it is one of the busiest airports it is natural that ground traffic here is also extremely busy. This has led to massive demands for more parking and also for lower parking rates, none of which has happened till date. Help has however, come in from a different source which offered travelers using the Atlanta (ATL) airport not just ample parking space but also at very affordable rates. The advent of Greenbee has finally brought in relief in terms of secure and easy airport parking without any customer having to pay a premium price for their service. The latest Atlanta long term airport parking reviews (http://www.greenbeeparking.com/GEORGIA/ATL/Reviews-of-ATL/page.html) show these happy and satisfied customers who have definitely benefited from their services.
The Greenbee Airport Parking Solution
Greenbee Parking has effectively bridged the gap between parking problems and solutions at both airports and major seaports. They have tied up with major hotels for available parking spaces at discounted rates which they offer their customers across the nation who can now save up to 75% of their parking costs.
All they need to do is visit Greenbeeparking, select their city or airport of choice, choose the parking spot and pay through a secured payment gateway. There is a comprehensive list of airports and parking spots to choose from. Greenbee's wide network makes it possible for every customer who logs in to find a solution.
About Greenbee Parking
Greenbee Parking is the nation's most innovative long term parking company, with a new way of making long term parking affordable. The company is rapidly adding new airports to its network.