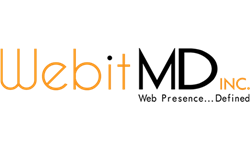 Los Anageles (PRWEB) September 20, 2013
WebitMD Inc. officially launched today their local Los Angeles SEO LocalPro packages. These packages combine the latest in Internet Marketing strategies for Los Angeles businesses and adhere to the latest algorithm updates from Google as well. The WebitMD team has put together a LocalPro package meant for each type of local business in Los Angeles.
The LocalPro Packages include a Local Los Angeles SEO Optimized, Local Mobile Marketing, Local Pay per Click Campaign, Google Maps Optimization and more. Each LocalPro packages also includes a dedicated account manager and monthly professional reporting to track progress. The starting price point of the LocalPro Packages are at $499 per/month which is very reasonable for many local business owners. WebitMD also offers packages at $999 per/month, $1,499 per/month, and $1,999 per/month for businesses looking to be more aggressive with their Los Angeles Internet Marketing.
The team at WebitMD Inc. claims to be changing the way local businesses view their online marketing initiatives. We spoke with MattanDanino, CEO of WebitMD Inc. who told us "We see that SEO and Local Online Marketing are evolving and we must evolve as an agency as well. We have decided to offer a month to month contract on our LocalPro packages and let our results speak for themselves. We are that confident in our work."
The WebitMD LocalPro package is explained in full detail on the WebitMD website at http://www.webitmd.com/local-pro. The team at WebitMD also has built a custom dashboard for its LocalPro clients to view work that has been performed and progress of rankings improvements as well. These types of platforms are generally offered for mid-enterprise level account but WebitMD has decided to offer ALL their LocalPro customers this platform as well. There will be no added cost for Los Angeles LocalPro customers to use this dashboard as well.
The WebitMD LocalPro package is a great addition to the current WebitMD lineup of services and one that seeks to attract local Los Angeles businesses to engage in Internet Marketing. Get in touch with a LocalPro specialist at WebitMDs offices to learn more about the best package for your business. Check out http://www.webitmd.com/local-pro or call the WebitMD team at 800.601.2990 or 310.405.0502
WebitMD Inc. is a full service Internet Marketing & Web/Mobile Development agency based in Los Angeles, California. Their web development and mobile development services utilize the latest in technologies while their Internet Marketing team is top notch in providing SEO & PPC services to their robust clientele. Their team keeps up with the latest updates in the Google search algorithms while their reporting provides valuable data for evaluating progress. They also carry out other services such as: email marketing, online reputation management, social media marketing, ecommerce web development, and custom web portals for businesses.
WebitMD Inc. has been recognized for providing an integrated approach of online marketing while maintaining a boutique style level of service. They work cohesively with our clientele to ensure that their web marketing initiatives return a positive return on investment for their bottom line. Their web applications and mobile applications have been used by millions of users and provided recognition to mobile app startups internationally.
Visit them at http://www.webitmd.com for more information on their services or contact them via phone at (800) 601-2990