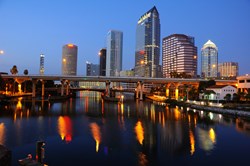 More and more innovative parking options means better and safer deals for all our customers.
Tampa, FL (PRWEB) September 30, 2013
Greenbee Parking (http://www.greenbeeparking.com), a growing airport parking service, has announced a brand new set of offers which will allow their customer in Tampa more options at much reduced Tampa airport parking rates. The deals were announced in their latest web upgrades, and promise to ease the airport parking woes for all travelers frequently using the busy Tampa (TPA) airport. Tampa sees a huge influx of tourists year-round along with the rest of Florida perhaps more than any other corner of the nation. The perpetual sunny weather is partly responsible for this while the natural scenic beauty all around is yet another reason. With the increasing influx of tourists, both domestic and global, the need for extended parking at the airport has been steadily rising over the years. It is, however, only with the advent of independent service providers like Greenbee Parking, that there has actually been any significant improvement in the parking scene.
"More and more innovative parking options means better and safer deals for all our customers," said Christine Cooper – Marketing Coordinator, Greenbee Parking. "That is why we are equally focused at service and further development. Every time we come up with a new option we are quick to release it so that our clients can get immediate and maximum benefits from the deals. Our latest web upgrades show the updated deals as well as the best Tampa airport parking rates that our customer can avail every time they travel through the Tampa (TPA) airport."
Tampa International Airport Parking Information
The Tampa International Airport is strategically located close to downtown Tampa as well as major scenic spots in the region which pulls in millions of tourists ever year. With over 90 daily scheduled flights, the airport connects with approximately 75 destinations globally and in the nation. It is one of the popular gateways to reach the Bahamas, the Caribbean's, Mexico and Panama. It also connects with major European and Canadian cities which ensures a steady flow if tourists both ways here. It ranks as the 31st busiest airport in North America by passenger movements and has also been named as one of the top 10 airports by CNNGo. The maddening rush has greatly affected certain amenities like airport parking which is not just scarce but also very dear. Thankfully, now with service providers like Greenbee Parking, travelers using this busy airport can finally see some hope for their travel budgets. They no longer have to pay through their noses to get secure parking spots for Greenbee Parking has ample options for all at very affordable Tampa airport parking rates (http://www.greenbeeparking.com/FLORIDA/TPA).
The Greenbee Airport Parking Solution
Greenbeeparking.com is the connection between consumers and parking vacancies in close proximity to major airports and seaports. The parking spaces are very affordable because the company has negotiated discounted rates with major hotel chains for the parking spaces that are not currently occupied. Here's how it works:
Greenbee Parking puts the available inventory of parking spaces on their website to be reserved by business and leisure travelers looking for cheap airport parking. This alternative method for finding parking equates to significant savings for the traveler.
About Greenbee Parking
Greenbee Parking is the nation's most innovative long term parking company, with a new way of making long term parking affordable. The company is rapidly adding new airports to its network.