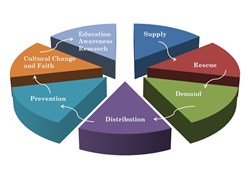 The anti-human trafficking movement in America is unbalanced. We must address all issues connected if we are ever going to make a difference.
(PRWEB) September 12, 2013
http://www.traffickinginamericataskforce.org Trafficking in America Task Force is pleased to introduce the TIATF-Alliance, the last phase of our organizations mission and what we envision as a powerful program to increase productivity amidst participants in the anti-human trafficking movement in the USA in order to expedite an end to modern slavery. TIATF is confident that this Alliance will bring clarity and purpose to the anti-human trafficking movement.
An example of the effectiveness of this type of alliance connectivity, the rescue arm is already working. TIATF was able to facilitate the recent rescue of a young woman by mobilizing numerous NGO's, Law Enforcement, and others across the USA to be available in various cities as touch points for the victim during her long and dangerous journey to freedom. With RESCUE being 1 of the 7 areas of concentration in the TIATF-Alliance, this is only an example of how the program will work -- organizations working together to bring about a desired end result -- to turn around and stop human trafficking in America.
TIATF President, Yvonne Williams, states, "We want to attract Non Government Organizations (NGO's) and For Profit Organizations (FPO's) that work within the following seven spheres of influence. SUPPLY: NGO's that work in victim services, housing and restoration, medical, mental health; RESCUE: Law Enforcement (LE), Private Investigators, Service Providers; DEMAND: Johns, Pornography; DISTRIBUTION: Travel, Gangs, Sports, LE, Pimps/Traffickers; PREVENTION: Youth, Children's Organizations; CULTURAL CHANGE AND FAITH: Mass Media, Prostitution Legal vs. Abolition, Corporate America and Poverty, Fatherless Homes, Fatherhood Initiatives, Runaways; and EDUCATION, AWARENESS, AND RESEARCH: Political Advocacy, Legislation, ICE, USCIS, Homeland Security, State Department, Training, Medical; Educators; Parents, Department of Defense; Department of Justice; Department of Human Services and others. We will then discover where the needs are -- the weak links -- and work to build within those areas. For example, if we have 12 NGO's working in the supply equation and only 2 in the demand equation, we will work to increase support in the area of demand. The TIATF-Alliance needs to be a balanced entity in order to make the greatest impact."
Williams recalls her initial vision, "When we created TIATF's 501(c)(3) we incorporated in our mission an arm in which we would connect NGO's in order to bring us all together to work in unison and not a part from one another. In the past two years we have discovered that this need is great with an onslaught of new organizations joining the movement to end human trafficking. TIATF believes in the body principle that all work together in order to build a healthy unit. There is no room in the anti-human trafficking movement for competition of any kind, and that all who want to participate are valuable no matter how small or large the contribution."
Additionally, many have entered this arena with a heart to do something but have not had the support necessary to bring their vision to pass. If these new organizations had time to work on their vision and let the funding come to them, they would have more time to implement their missions. TIATF-Alliance has a goal to hire full-time fund raisers as a benefit for those who become a part of the TIATF-Alliance. The end result will be more energy given to doing the work and less time given to chasing money, hence bringing an end to human trafficking in a much earlier time frame.
Accreditation is equally an important aspect of any work that pursues sound business practice. TIATF-Alliance members will receive an official certificate of accreditation from Trafficking In America Task Force that states they operate with integrity, and that they support the mission and vision of TIATF as outlined in our organization's operating principles: their part in working as an abolitionist organization with a desire to see all people restored to wholeness in order to eradicate modern slavery.
There are 3 Tiers to the TIATF-Alliance. TIER I for those that simply want to be listed in the TIATF-Alliance Directory. TIER II is for the NGO that is new to the movement and needs support and basic guidance in building a proper foundation on which to build. TIER III is for the NGO that requires oversight with their daily functions; and needs to be connected with others NGO's to fulfill their goals. It also includes many additional benefits including TIATF fund-raising efforts for these organizations.
Becoming a member of the TIATF-Alliance will allow your city or state to be a part of the solution while working to eradicate human trafficking, and assisting to affect the culture in America in order to reduce the entities that are fueling supply and demand. Contact Trafficking In America Task Force for more information.