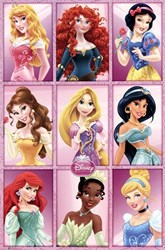 Delray Beach, FL (PRWEB) September 19, 2013
Decorate a child's bedroom or playroom with new Disney posters from PosterNation.com. The online retailer added a variety of new products with loveable characters such as Mickey Mouse, Cinderella, Princess Merida and the Cars characters. The new posters are available in a wide variety of different themes, colors and sizes.
Francois Buchs, co-founder of PosterNation.com, said, "Changing the art in a child's room is a simple way to redecorate without spending a lot of money. The new Disney posters at PosterNation.com give kids the opportunity to enjoy their favorite characters. In addition to Disney posters, we also offer posters that feature children's themes, such as Hello Kitty, baby animals, sports and dinosaurs."
Take advantage of the framing services from PosterNation.com for all art prints and posters available on the website. The artworks are framed in the USA with high-quality materials. With over 1 million different framing options, online shoppers can truly customize their framed art print for their child's room.
About PosterNation.com
PosterNation.com offers thousands of high-quality framed art prints and posters featuring themes that include: sports, movies, music, pets, animals, travel, motivational topics, hot people, vintage celebrities and more. The frame shop allows customers to customize their purchase by selecting the cropping, matting, framing and glazing for a framed art print or poster. Please visit http://www.PosterNation.com for more information.