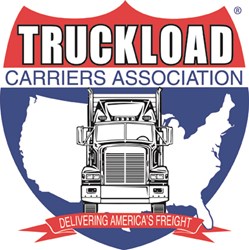 It's going to be a great evening.
Alexandria, Virginia (PRWEB) September 11, 2013
Tomorrow night, the Truckload Carriers Association (TCA) will host its inaugural benefit gala supporting Wreaths Across America (WAA), a national, nonprofit organization that continues and expands the annual wreath-laying ceremony at Arlington National Cemetery begun by a Maine businessman, Morrill Worcester, in 1992. The event will take place Thursday, September 12, 2013, from 5:30 to 10:30 p.m., at the Grand Hyatt Washington in Washington, D.C. It will feature a reception hosted by Randall-Reilly of Tuscaloosa, Alabama; a dinner hosted by TravelCenters of America/ Petro Stopping Centers of Westlake, Ohio; special presentations; entertainment hosted by Pilot Flying J of Knoxville, Tennessee; and a silent auction.
TCA is holding the Gala because the trucking industry has a close connection with the U.S. armed forces. (Veterans often choose to make their careers in trucking after serving in the military.) For many years, to support WAA's "Wreaths Across America Day," TCA members had been individually donating their equipment and driver resources to haul truckloads of fresh wreaths, which were laid on the graves at veterans' cemeteries across the nation, and also placed on veterans' graves during a special ceremony at Arlington National Cemetery. As the effort grew, TCA got involved with fund-raising for WAA and, in 2012, began coordinating the logistics that were necessary to transport hundreds of thousands of wreaths.
"The mission of Wreaths Across America – to Remember, Honor, Teach – is very important. We hope that the Gala will enhance awareness of the cause, while raising funds to take the mission even further in 2013," said Chris Burruss, TCA's president and a U.S. Marine Corps veteran.
He continued: "Our attendee list also includes representatives from the House of Representatives and Senate, Arlington National Cemetery, various segments of the U.S. military, including numerous veterans, and, of course, many trucking associations, organizations, and affiliated companies. It's going to be a great evening."
Heather French Henry, also known as Miss America 2000, will serve as emcee. As the daughter of a disabled veteran of the Vietnam War, Henry has experienced, firsthand, the struggles facing veterans nationwide. She therefore chose to dedicate her reign as Miss America to raising awareness of veterans' issues. She has been active in getting legislation passed for homeless veterans, and she also created a foundation that provides financial and educational support to community-based providers of services in the areas of homelessness, health care, and housing.
The speaker list includes Karen and Morrill Worcester of Columbia Falls, Maine, founders of Wreaths Across America, and Barbara Bernard of Columbia, Pennsylvania, president of American Gold Star Mothers, Inc., an organization of mothers whose sons or daughters served and died for their country. The evening's entertainment will be provided by Lindsay Lawler, a Nashville recording artist and the official spokesperson of TCA's Highway Angel program, and Lonestar, a multi-platinum, country music quartet.
For more information about the Gala, follow hashtag #TCAWAA13 on Twitter or visit http://www.TruckloadOfRespect.com to make a donation.
TCA is the only national trade association whose collective sole focus is the truckload segment of the motor carrier industry. The association represents dry van, refrigerated, flatbed, and intermodal container carriers operating in the 48 contiguous states, as well as Alaska, Mexico, and Canada. Representing operators of more than 200,000 trucks, which collectively produce annual revenue of more than $20 billion, TCA is an organization tailored to specific truckload carrier needs.
Wreaths Across America is a 501(c)(3) nonprofit organization founded to continue and expand the annual wreath-laying ceremony at Arlington National Cemetery begun by Maine businessman, Morrill Worcester, in 1992. The organization's mission, Remember, Honor, Teach, is carried out in part each year by coordinating wreath-laying ceremonies on the second Saturday of December at Arlington, as well as hundreds of veterans cemeteries and other locations in all 50 states and beyond. For more information, to donate or to sign up to volunteer, please visit http://www.WreathsAcrossAmerica.org.