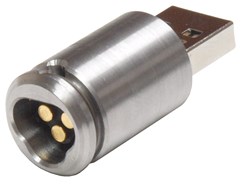 Corvallis, Oregon (PRWEB) September 13, 2013
CyberLock, Inc., a security systems supplier, announced the release of the CyberKey PowerPort™ smart key charger.
The PowerPort is a compact charger for use with all rechargeable CyberKey smart keys including the RXD II, the RXD, the RCG, and the CyberKey Blue. One side of the PowerPort fits the tip of a CyberKey. The other side of the PowerPort fits any standard USB port. The PowerPort is designed to work with off-the-shelf USB wall chargers and car chargers. However, it will also charge a CyberKey from most USB ports on desktops or laptops.
The CyberKey PowerPort is part of the CyberLock system of electronic locks and programmable keys. The CyberLock system allows users to track traffic throughout their facility, even in isolated areas that have no available power. The electronic locks and keys record lock openings as well as unauthorized attempts to gain entry. The system's email alerts and audit reporting of each person's key and lock activity keep management updated so informed decisions can be made when potential security issues arise.
With the addition of the PowerPort, CyberLock users can now charge their electronic keys on the go.
CyberLock, Inc., will be showcasing the CyberLock electronic access control system at the ASIS show in Chicago, IL, September 24-26, at booth 1294.
About CyberLock, Inc.
CyberLock, Inc. is a high technology supplier of CyberLock access control products that are made in the U.S.A. and shipped worldwide directly from their headquarters in Corvallis, Oregon. For more information, please contact CyberLock, Inc. by phone at (541) 738-5500, by fax at (541) 738-5501, by email at sales@cyberlock.com, or visit the web site at http://www.cyberlock.com.