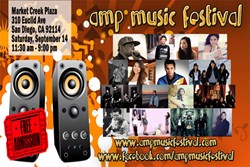 Myx TV is proud to support the local artist community and Asian American talent.
LOS ANGELES, Calif. (PRWEB) September 11, 2013
Asian American network, Myx TV, announces its partnership with Southern California's AMP Music Festival. With premium local talent and the Asian American community's rising stars, this year's music line-up offers a wide variety of genres from pop-rock to vocal percussions. Savor gastronomic treats from popular food trucks and shop with music and lifestyle vendors at the full day event, presented by Pacific Arts Movement. The AMP Music Festival rocks California on September 14, 2013 at the Market Creek Plaza at 310 Euclid Avenue in San Diego.
AMP Music Festival, brainchild of Silk Road Productions, began as a daring project and bold movement that would connect mainstream music-loving audiences with traditionally overlooked Asian Pacific American talent. Continuing their work of providing a forum to support the continuous evolution of music and arts, they bring Amy Monzon, April Nhem, CREW LOVE ft. DANakaDAN, Sam Kang, Chucky Kim, Abe Kim, and Priscilla Liang, EVMB ft. Aileen u & Nice Things Productions, Her Crimson Love, Jason Diego, Johnny HiFi, Katriz Trinidad, Nylon Pink, the Plastic Revolution, Siah S, and Terry Matsuoka, to the stage this year.
"Myx TV is proud to support the local artist community and Asian American talent," said Tiffany Phung, Marketing Manager for Myx TV. "The channel has shined the spotlight on many of these artists and we look forward to celebrating their music."
A partner since AMP Music Festival's inception, Myx TV reaffirms its commitment to providing a national platform to the best of Asian American talent around the country.
"Myx TV has been a great resource and partner for the AMP Music Festival. They've been supportive since the beginning and it is great to have an alliance with a credible, reputable, and popular media entity with whose mission and vision we are in complete alignment," quipped Dennis-Michael Broussard, Director & Founder of the AMP Music Festival. "We are very happy and proud to have Myx TV as a Rock N Roll sponsor for this year's AMP Music Festival!"
AMP Music Festival continues to grow towards the goal of spotlighting music and the arts for the benefit of arts programs in local schools, with a focus on districts that serve at risk youth. For more information and a sneak peek into the upcoming festival, visit http://www.ampmusicfestival.com.
##
ABOUT Myx TV®:
Myx TV is the fastest growing Asian American entertainment network in the United States. Broadcast in 12 million households, with millions more viewing online, the network is available in both linear and digital platforms, offering both live and on demand content. Myx TV's award-winning programming consists of original productions, reality shows, live music performances, game show competitions, films, and music videos, airing 24/7 in English. To find out more, visit http://www.myx.tv, http://www.facebook.com/myxtv, http://www.twitter.com/myxtv, http://www.instagram.com/myxtv, and http://www.youtube.com/myxtv.
Media Asset:
TV Commercial: http://youtu.be/O-mZaO5QPXY
Myx TV Contact:
Tiffany Phung
Marketing Manager
Tiffany.Phung(at)myx(dot)tv