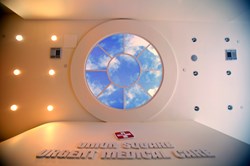 Flu vaccination prevented an estimated 13.6 million flu cases, 5.8 million medical visits and nearly 113,000 flu-related hospitalizations
(PRWEB) September 13, 2013
In an effort to provide accessible medical services to New York City communities, Urgent Medical Care Union Square is committed to providing convenient solutions to keep patients healthy ahead of the upcoming flu season. Urgent Medical Care is a leading urgent care clinic with locations across the boroughs of Queens and Manhattan, offering extensive health care services on a walk-in basis for New York City residents and busy professionals.
Urgent Medical Care is re-launching their influenza vaccination services for the fall and winter seasons. The Centers for Disease Control and Prevention (CDC) advises that seasonal flu activity typically begins as early as October while reaching its peak during the months of January and February.
A study from the CDC that was presented in 2013, indicates that "flu vaccination prevented an estimated 13.6 million flu cases, 5.8 million medical visits and nearly 113,000 flu-related hospitalizations in the United States over a 6-year period (2005-2011)". A yearly flu shot is strongly recommended as new strains of the influenza virus differ on an annual basis. Patients who received the flu shot in previous years may not be protected from the circulation of new strains in proceeding years.
In the busy and crowded metropolitan, the New York City Health Commissioner Dr. Thomas Farley addressed in 2012 that "everyone six months and older should get a flu vaccine every year" while stressing the importance of public health. Urgent Medical Care is escalating their efforts to make flu vaccination widely available while empowering patients with options to receive the treatment in the most accommodating manner.
Urgent Medical Care is open from seven days a week while maintaining extended hours of operations so that the city's working professionals have access to urgent care during after-hours. The injection process promises to be a painlessly simple procedure at Urgent Medical Care where in-house registered nurses are proficiently trained in applying vaccination without comprising the comfort of the patient.
Protect yourself and your neighbors from the influenza virus this by visiting New York City's most convenient urgent care, Urgent Medical Care. Treatments are readily available for walk-in patients without the need for appointments.
About Urgent Medical Care Union Square
Urgent Medical Care Union Square is open for 7 days and no appointment is necessary. The services offered by Urgent Medical Care Union Square are affordable as compared to a visit at the hospital emergency room. From advance diagnostic testing to a specialist follow up, experience a reliable medical care and unparalleled services at Urgent Medical Care Union Square in NYC.