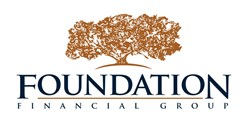 Together, we can do anything. Foundation Financial Group's employees consistently display the generosity, compassion, and drive necessary to positively change the world.
Jacksonville, Florida (PRWEB) September 12, 2013
Foundation Financial Group has reported its 2013 Employee Charity Donations have increased 60 percent over all Employee Charity Donations during 2012. Through its philanthropic services and contributions, Foundation Financial strives to improve the lives of individuals in its communities and inspire social enrichment.
"With a 60 percent increase from last year, our employees have set a promising pace for the rest of the year," says CEO Mark Boyer. "The FFG family is full of hard-working people who give what is needed because they want to make a difference. Together, we can do anything. Foundation Financial Group's employees consistently display the generosity, compassion, and drive necessary to positively change the world."
Four years ago, Foundation Financial Group implemented an Employee Charity Donation project that enables employees to donate to FFG's philanthropic partners via payroll advances and the FFG employee point system, a system in which points are rewarded to employees for their hard work. Employees choose a charity they wish to donate to and the points (converted into dollars) are then distributed to that charity. Foundation Financial also has an external donations page to provide employees, clients, and friends the opportunity to donate from their personal accounts.
In 2012, Foundation Financial Group's employees exceeded the Employee Charity Donations for 2011 by 373 percent. During first quarter of 2013, FFG Employee Charity Donations surpassed all of 2012's donations in three months. Boyer said Foundation Financial Group is in the process of establishing its own charity foundation to support organizations and communities in need.
Foundation Financial Group's Employee Charity Donation project supports a variety of non-profits. Foundation Financial Group has partnered with over 80 national and local organizations. FFG's philanthropic partners include but are not limited to St. Jude Children's Research Hospital, Disabled American Veterans, Habitat for Humanity, The Boys and Girls Clubs, Autism Speaks, Camp Good Days, and Shining Light on Huntington's.
About Foundation Financial Group
Foundation Financial Group is a multibillion dollar financial services corporation. FFG offers its customers Best in Class service through its insurance, retirement, and mortgage services. Named one of the fastest growing financial companies in the country by Inc. Magazine for the third year running, FFG has continued to grow its nationwide presence with over 100,000 new customers per year in 39 states. In addition to the value that Foundation Financial provides every customer, it is also dedicated to its communities and the people who live in them. Through a vast array of philanthropic endeavors, the company not only provides significant monetary donations but also fosters a workforce environment that encourages all team members to personally make a difference. Foundation Financial is committed to its strong focus on customer service and community investment as it continues to grow and compete with the largest financial institutions in the world.
Foundation Financial Group reviews all public relations inquiries. For additional information, interview and image requests, contact the Foundation Financial Group Public Relations Team.