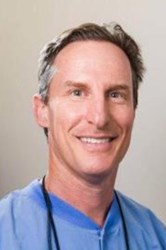 West Lost Angeles, CA (PRWEB) September 12, 2013
Patients of periodontist Dr. Andrew Satlin now have a greater chance of preventing their teeth from being lost due to gum disease. Dr. Satlin's use of the latest in laser gum surgery is helping many patients with periodontal disease keep teeth that otherwise would need to be extracted. A primary reason for the loss of teeth when gum disease is present is because of the loss of surrounding jaw bone that supports the teeth. The Laser Assisted New Attachment Procedure (LANAP) actually stimulates the regrowth of bone in the jaw. This increase in bone density allows the teeth to be properly supported and therefore saved.
Periodontal disease is classified as any infection caused by bacteria that attacks the area of gum that provides support for the teeth (the literal meaning of the word "periodontal" is "around the tooth"). The area covered by an instance of gum disease may be small, affecting only one tooth, or it may span multiple teeth. As the bacteria that cause the gum disease grow, they also attack the bone in the area and can result in the loss of jaw bone density as well as diseased gum tissue.
Traditional methods of treating gum disease have been able to reduce the bacteria present and improve the health of gums. They have not been able to address the loss of bone. There are many dangers of bone loss in the jaw, including the ultimate loss of teeth. Without the proper jaw support, teeth are not able to remain in place, leaving Dr. Satlin no choice but to extract the teeth and consider placement of bridges, dental implants or dentures. The newly cleared LANAP laser gum surgery successfully addresses the problems associated with bone loss for gum disease patients.
LANAP is revolutionizing the treatment of periodontal disease between its ability to deliver healthy gums and healthy, rejuvenated bone, as well as its dramatically reduced impact on patients. They no longer need to endure cut and sew surgeries and lengthy recovery times. The laser gum surgery process can be completed in less time and with decreased recovery or post-surgery effects. To learn more about LANAP and how it can help you, visit Dr. Satlin's website or call his office today.
About The Doctor
Dr. Andrew Satlin is a periodontist offering personalized dental care for West Los Angeles, CA gum disease patients. Dr. Satlin is part of one percent of dental professionals providing the only FDA cleared laser procedure for gum disease treatment. To learn more about Dr. Satlin and his dental services, visit his website at http://www.westlosangelesperio.com and call (310) 907-5912.