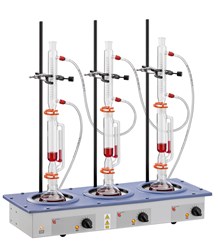 Vernon Hills, IL (PRWEB) September 12, 2013
A versatile choice for organic chemists and lab technicians, this multi-position mantle can be used for distillation and extraction. The Electrothermal Electromantle Extraction Heaters and Heater/Stirrers from Cole-Parmer offer a unique vented airflow which ensures that the case remains cool to the touch. Users can stir or heat solutions simultaneously in each position. The unit accommodates a variety of round-bottom flask sizes from 100 to 1000 mL.
A prime advantage of the unit is its robust construction which permits continuous operation of the mantles, a necessary feature for routine extraction testing. Solid-state electronic controls regulate heat, with each mantle position offering an independent heater. Heat liquids with varying boiling points side by side, up to a maximum element temperature range of 450ºC. Each independent heater includes its own control dial, operational switch, and indicator light.
Choose from three-or six-position mantles, with or without the stirrers. Units with the stirring function allow users to stir from 50 to 1000 rpm while heating. The three-position models have one stir controller for all three mantles. The six-position models have two stir controllers, one for each set of three mantles.
Powder-coated aluminum surfaces and a polypropylene top cover ensure good chemical resistance and easy cleanup. To view the Electrothermal Electromantle Extraction Heaters and Heater/Stirrers from Cole-Parmer, go to ColeParmer.com/20537 or call 800-323-4340 for more information.
Cole-Parmer has been a leading global source of laboratory and industrial fluid handling products, instrumentation, equipment, and supplies since 1955. Our product lines, including popular brand names such as Masterflex®, Oakton®, and more, are sold through company-owned customer channel outlets and a strong network of international dealers. We also feature an ISO-17025-accredited metrology lab for instrument calibration and repair. Cole-Parmer responds with excellence to customer needs, and offers application expertise and technical support. For more information, contact Cole-Parmer, 625 East Bunker Court, Vernon Hills, IL 60061. In the US, call 800-323-4340. International customers, call 847-549-7600. Visit us at http://www.coleparmer.com.