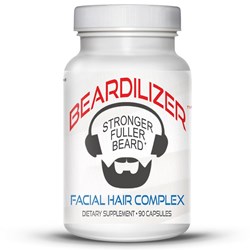 Nowadays, beards are the trend, especially as the cooler months and Movember approach. George Clooney, Brad Pitt, and Jim Carrey are giving beards a trendy, sexy name.
Pompano Beach (PRWEB) September 12, 2013
Beardilizer, beard growth supplement, announces its launch on Amazon with a discounted rate of $24.99 (regularly priced at $39.99) for the dietary supplement. The multivitamin promotes a stronger, fuller, and healthier beard by nourishing the facial hair follicle from the inside out.
The supplement is 100-percent all natural and contains no drugs. Men simply have to take one to three capsules a day with a meal for fuller facial hair, be it a mustache, beard, or goatee.
In addition to improved facial hair, Beardilizer also soothes dry, itchy beards with its professionally formulated extracts. The all natural, safe ingredients of Beardilizer include some of the following: vitamins A, C, and E; thiamin, riboflavin, biotin, and folate.
Mainstream platforms like Amazon (http://www.amazon.com/Beardilizer-Complex-Capsules-Powerful-Nutrients/dp/B00CSTM3II/?_encoding=UTF8&camp=1789&creative=9325&keywords=beardilizer&linkCode=ur2&qid=1375465230&sr=8-1&tag=wwwnuezdelain-20) carry these supplements for convenient and easy purchase.
About Beardilizer
Beardilizer is the number one facial hair growth complex for men. The dietary supplement and multivitamin promotes fuller, healthier beards with its professionally formulated all natural, drug-free ingredients to target the hair follicle from the inside out.
For more information, visit http://www.beard-growth.com/.