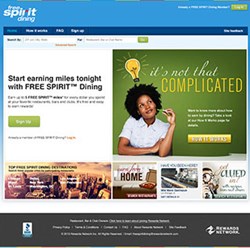 We're excited to be able to provide our members with another wonderful dining loyalty program option
Chicago, IL (PRWEB) September 16, 2013
For Rewards Network, new loyalty program partnerships mean new dining reward choices for its members. And as of September 12, 2013, members now have the opportunity to earn miles from FREE SPIRIT™ Dining, the loyalty marketing company's newest airline reward program from Spirit Airlines.
When members enroll in FREE SPIRIT Dining through freespiritdining.com, they earn three miles for every dollar they spend at over 10,000 participating program restaurants, bars and clubs. The enrollment process involves registering a credit or debit card, and then using that card to pay for dines at program restaurants and automatically earning rewards. No additional loyalty cards are necessary, so the process is simple and seamless.
"The process to join FREE SPIRIT Dining is simple," said Megan Flynn, SVP of Loyalty and Business Development at Rewards Network. "We believe one of the main reasons many consumers choose to become members of our dining loyalty programs is because it's so simple to join and earn the rewards they want. As part of FREE SPIRIT Dining, they'll earn miles that they'll actually use toward a great trip or flight."
And when members register for the dining loyalty program using their Spirit MasterCard® credit card, they not only earn the three miles for every dollar spent at program restaurants, but also still earn two miles for every dollar they spend as part of their cardholder rewards. That means that members who are also Spirit MasterCard cardholders have the opportunity to earn up to five miles for every dollar they spend with FREE SPIRIT Dining.
Rewards Network's dining loyalty programs are unique because they offer members their rewards of choice, rather than assigning them arbitrary rewards they may not desire. Members who choose to join FREE SPIRIT Dining in order to earn miles can use them to purchase airfare anywhere that Spirit Airlines flies. And earning these miles is simple because they're earned when members do what they already love to do: dine.
"We're excited to welcome Spirit Airlines to the Rewards Network family," said Flynn. "And we're excited to be able to provide our members with another wonderful dining loyalty program option. Consumers can choose to earn miles from one of the best airline reward programs in the country, and they will not be disappointed with what Spirit Airlines has to offer."
About Rewards Network
Rewards Network, headquartered in Chicago, IL, powers the leading dining rewards programs in the United States. The company offers dining programs in partnership with major airline programs, several of the nation's largest bankcard issuers, numerous key players in the loyalty marketing industry and dozens of national corporations. Their 3.2 million active members include frequent flyers, corporate cardholders and diners who spend hundreds of millions of dollars annually at participating restaurant clients. Rewards Network brings added value to members by awarding benefits for every dollar spent in transactions with participating restaurant clients. The participating restaurant clients benefit from the company's restaurant marketing efforts, which include millions of promotional email impressions, mobile access to restaurants via iPhone® and Android™ smartphones, dining websites and social media presence.
About Spirit Airlines
Spirit Airlines (NASDAQ: SAVE) empowers customers to save money on air travel by offering ultra low base fares with a range of optional services, allowing customers the freedom to choose only the extras they value. This innovative approach grows the traveling market and stimulates new economic activity while creating new jobs. Spirit's modern fleet, configuration and other innovations enable Spirit to burn less fuel per seat than competitors, making Spirit one of the most environmentally-friendly U.S. carriers. Spirit's all-Airbus fleet operates approximately 250 daily flights to over 50 destinations in the U.S., Latin America and Caribbean.
Press Contact:
Megan Flynn
SVP, Loyalty & Business Development
(312) 521-6742