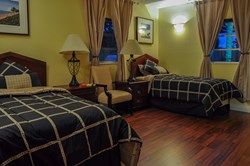 "A prescription drug dependency can adversely impact your job, family and your future. If you're suffering from prescription drug abuse, check into a detox center such as Harbor Village as soon as you can," said Robert Niznik
Miami, Florida (PRWEB) September 15, 2013
As reported in an article by IndyStar.com (9/2) titled Indiana legislators urged to act on painkiller addiction, Attorney General Greg Zoeller said prescription drug abuse in the U.S. is bigger than cocaine, heroin and hallucinogen abuse combined. In 2011, Indiana had 718 deaths from overdoses of prescription drugs, he said.
Prescription drug abuse usually starts with one doctor authorized prescription and can escalate to a life threatening problem. Only a certified, 24/7 medically supervised detox center such as Harbor Village is qualified to assist clients who are suffering from prescription drug issues.
At Harbor Village, a trained team of medical professionals helps clients achieve recovery from both drug and alcohol addiction. Located in South Florida, each client experiences private drug treatmen t in a luxury, state-of-the-art environment. Featuring upscale accommodations including a beautifully furnished suite with satellite television, Harbor Village also offers over an acre of outdoor lounge area, spa, salon, massage and acupuncture services, nutritious, gourmet dining and the personalized support of a caring, attentive staff who is with each client every step of the recovery process.
According to Indiana legislators urged to act on painkiller addiction, Mental health experts told a legislative study committee that Indiana needs to address the growing prescription drug epidemic in the state but the problem is separating the addicts from patients who legitimately need painkillers like Oxycontin to function each day.
"I know it's huge," said Kathleen O'Connell, a commission member who also works as director of nursing at a Fort Wayne hospital. "As a nurse, I also know there are a group of people out there who have to take these medicines every day."
Speaking to the Commission on Mental Health and Association at the Indianapolis hearing, Dr. Andy Chambers, chief of Indiana University Medical School's psychiatry department, said the state needs more doctors trained to recognize the signs of drug dependency.
"A prescription drug dependency can take over your life and adversely impact your job, family and your future. If you're suffering from a prescription drug dependency, check into a detox center such as Harbor Village as soon as you can," said Robert Niznik, Harbor Village CEO.
For more information, visit: http://harborvillageflorida.com or call the 24/7 hotline at 1-855-338-6900.
Media Contact: 
Robert Niznik 
Harbor Village 
Miami, FL 
305-999-5728 
robert(at)harborvillageflorida(dot)com