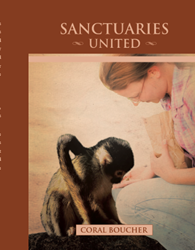 Melbourne, Australia (PRWEB) September 13, 2013
In the Australian countryside, one woman makes it her mission to help endangered animals return to the wild and enjoy the space they need to truly thrive.
In Sanctuaries United, author Coral Boucher shows readers the importance of caring for animals in their natural habitat and protecting rare species. Discussing the importance of proper human-wildlife interaction, Boucher shows that animals and mankind can coexist peacefully.
Boucher shares her belief that rescue preserves are important to the growth and prosperity wild animals and wants to promote the mission behind the organizations. By connecting with the story's heroine and her love for animals, readers will realize the positive influence of increased involvement with the creatures and habitat around them.
Sanctuaries United
By Coral Boucher
ISBN: 978-1483655765
Available at: Amazon, Barnes and Noble and Xlibris online bookstores
About the author
Coral Boucher, retired mother and grandmother, has a love for writing and animals that prompted the publication of Sanctuaries United. After working her way through the ranks of several jobs, Boucher has retired and spent her time focused on writing. She is currently working on her next publication, an autobiography.
###
** For Immediate Release**