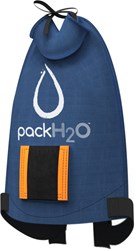 Columbus, Ohio (PRWEB) September 12, 2013
PackH2O LLC today announced that the PackH2O™ Water Backpack has been nominated for the 2013 People's Design Award, presented by the Smithsonian's Cooper-Hewitt, National Design Museum and Smithsonian magazine. The pack is one of just 20 designs that have been nominated for the honor, which will be voted on by the American public, through Smithsonian.com.
OFFICIAL VOTING LINK: http://www.smithsonian.com/peoplesdesign
The PackH2O™ Water Backpack was designed by Greif, Inc, a global leader in industrial packaging products and services, to provide a cleaner, safer alternative to the often contaminated jerrycans and buckets used by women in developing countries to transport water from source to home.
Greif President and CEO David Fischer identified the need for PackH2O on a trip to Haiti following the devastating 2010 earthquake. Fischer observed women carrying water in containers on their heads, and children lugging home dirty containers full of water, weighing up to 48 pounds each.
The PackH2O™ Water Backpack features an ergonomic, gender-neutral design, adjustable shoulder straps, and a removable liner that can be sanitized in the sun.
MORE INFORMATION ON THE PACK: http://www.packh2o.com/ThePack/index.html#tech
Through collaborations with companies such as Greif, Habitat for Humanity, and Partners for Care, PackH2O LLC has been able to deploy over 100,000 packs across five continents.
About PackH2O LLC: PackH2O is a socially conscious distribution and marketing company that provides an innovative solution to water transportation in developing areas across the globe. As a social innovation brand, PackH2O is driven by a vision to improve lives through a sustainable business model. http://www.packH2O.com
About Greif, Inc.: Greif, Inc. is a world leader in industrial packaging products and services. The company produces steel, plastic, fibre, flexible, intermediate bulk, corrugated, reconditioned and multiwall containers and containerboard, and provides filling, packaging, industrial packaging reconditioning and land management consulting services for a wide range of industries. Greif also manages timber properties in North America. The company is strategically positioned in more than 55 countries to serve global as well as regional customers. Additional information is on the company's website at http://www.greif.com.
About the People's Design Award: Every year, Cooper-Hewitt gives out design awards chosen by a jury of distinguished design gurus—but do you agree with the experts? Now you can make your design voice heard by voting for the 2013 People's Design Award. Cast your vote for your favorite design before 6:00 p.m. EST on October 11. The winner will be announced on October 17 at the National Design Awards gala in New York City.
About the National Design Awards: As the only museum in the nation devoted exclusively to historic and contemporary design, Cooper-Hewitt, National Design Museum educates, inspires, and empowers people locally and globally through design. The National Design Awards program celebrates design as a vital humanistic tool in shaping the world, and seeks to increase national awareness of design by educating the public and promoting excellence, innovation, and lasting achievement. Celebrate National Design Week with design event and activities in your area, October 12–20.