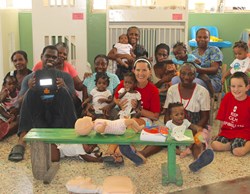 We are all one, connected by a common bond, that of love. We offer hope to everyone.
Brentwood, TN (PRWEB) September 12, 2013
AED.com, a leading distributor of new and recertified AEDs, recently donated an automated external defibrillator to Rescue Heart Foundation to be passed on to a Haitian orphanage. Angela Howell-Edgerly, CEO of Rescue Heart, traveled with her son to Maison des Enfants de Dieu orphanage in Port-au-Prince in August of this year.
Angela previously visited Haiti following the 2010 earthquake on a trip to donate shoes to adults and children in need. On her more recent visit, Angela trained orphanage staff, nurses, nannies and children how to check pulses, the Heimlich maneuver, first aid, bleeding precautions, AED training and CPR. She also left the donated AED with the orphanage and plans to return next year for a refresher CPR and AED training course.
The need for medical care and training in Haiti is tremendous with one doctor per 10,000 individuals. Additionally, there is no equivalent of 911 in the country. As a nurse and heart disease survivor, Angela has a special passion for medical needs and cardiac related illnesses. She created Rescue Heart Foundation to raise awareness of cardiovascular disease and place AEDs in communities around the globe. Angela states, "We are all one, connected by a common bond, that of love. We offer hope to everyone."
AED.com and Rescue Heart Foundation plan to extend their partnership to the summer of 2014, when Angela will ride her bike across America to raise awareness for cardiac conditions and AEDs. AED.com will partner with Zoll Medical to donate AEDs to several of the communities Angela will stop in along her ride. AED.com is thrilled to continue their support of Rescue Heart Foundation. Blaire Czarniecki, Sales Support Administrator at AED.com, states, "Working with Angela has been a joy. It is such a privilege to work with and support someone with her level of passion and dedication."
AED.com sells and services both new and recertified AEDs. The company is located in Brentwood, TN and serves over 20,000 customers in all 50 states and over 40 countries worldwide. For more information, please visit: http://www.aed.com/.