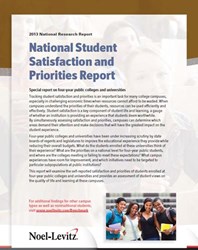 With the rising cost of college, students and their families are certainly becoming more critical about the advantages of a college education and whether it's 'worth it'. - Julie Bryant, associate vice president at Noel-Levitz
Coralville, Iowa (PRWEB) September 16, 2013
Students taking courses primarily online showed greater levels of satisfaction with their educational experiences, according to a pair of new national satisfaction reports.
Nearly three-quarters of online learners surveyed (74 percent) expressed satisfaction with their educational experience. In fact, when comparing those enrolled primarily online to those enrolled at a campus but taking courses online, the satisfaction numbers were in stark contrast: 75 percent to 55 percent.
These figures come from the 2013 National Online Learners Priorities Report, published by Noel-Levitz.
They also compare to figures from the 2013 National Student Satisfaction and Priorities Report which looks at student satisfaction levels by institutional type. Here, the satisfaction levels ranged from 54 percent for four-year publics and 58 percent for four-year privates to 63 percent for community colleges. (Career and private schools scored 58 percent in overall satisfaction.)
Why is there such a contrast in student satisfaction when looking at students enrolled on campus compared to those enrolled primarily in online learning programs? Cost may be one factor at play, as a significant number of students at four-year institutions were not convinced tuition was a worthwhile investment.
Both reports are based on results from the Noel-Levitz Satisfaction-Priorities Surveys which ask students to rate their satisfaction on key items related to the student experience as well as the importance of those items. The ensuing data allow campuses to pinpoint challenges, areas of lower student satisfaction but high importance. One survey item, "Tuition paid is a worthwhile investment," was cited as a challenge by students at four-year public and private institutions across nearly all student populations. This challenge likely played a role in the lower overall satisfaction levels for four-year campuses.
"With the rising cost of college, students and their families are certainly becoming more critical about the advantages of a college education and whether it's 'worth it,'" said Julie Bryant, associate vice president at Noel-Levitz and author of the reports. Ms. Bryant oversees the data collection, which includes responses from more the 100,000 students at four-year public institutions and 100,000 online learners. "Students at two-year institutions and in online programs may feel more satisfied simply because they are paying less."
At the same time, online students also listed the quality of instruction as the greatest challenge area. "Creating connections with students is the great challenge of online education," Ms. Bryant added. "How do you keep student interest and involvement when their 'classroom' is a computer screen? That's precisely why so many online programs survey their students about their satisfaction levels."
Satisfied college students tend to persist and complete their educational goals
In 2009, Ms. Bryant collaborated with Dr. Laurie Schreiner of Azuza Pacific University on a study, Linking Student Satisfaction and Retention. (Dr. Schreiner is a professor and director of the university's doctoral programs.) Examining data from more than 27,000 students, the study found a link between student satisfaction and student retention. Simply put, when students are satisfied, they are more likely to persist and complete their educational programs.
"Satisfaction assessment plays a key role in institutional accountability," Ms. Bryant said. "On the one hand, it provides a 'grade' if you will, of institutional performance. On the other, and more importantly, it provides data to the campus for planning—not just areas of challenges, but areas of strength where campuses can demonstrate value."
In fact, Ms. Bryant feels part of the challenge on the cost stems from perception as well as escalating costs. "It's more important than ever for campuses to remind students of the value of educational outcomes—such as job placement data and alumni testimonials—as well as other strengths that satisfaction assessment can reveal."
The reports may be downloaded from:
2013 National Online Learners Report: http://www.noellevitz.com/2013AdultStudents
2013 National Student Satisfaction and Priorities Report: http://www.noellevitz.com/2013Satisfaction
About Noel-Levitz
Noel-Levitz is a recognized leader in higher education consulting and research. For 40 years, they have partnered with more than 2,800 campuses to optimize enrollment management and student success through experienced consultation, advanced analytic tools, and campus assessments.