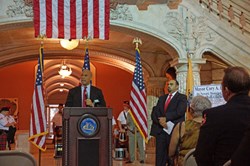 We honor the thousands of lives lost, including 5 Newark residents, and the courage of the first responders and our military that day and in the years of conflict since then, and the resilience of our entire nation as we remember and rebuild. -Cory Booker
Newark, NJ (PRWEB) September 11, 2013
Twelve years ago, America's resolve and resiliency was put to the ultimate test when terrorist orchestrated the worst single day attack in world history, with nearly three thousand civilians perishing on that fateful Tuesday morning, including five residents of Newark. On this anniversary of the September 11th attacks, the city of Newark and the GI Go Fund paid tribute to the lives lost on that day, and offered their services to the men and women who fought to defend our nation in its darkest days.
Mayor Cory A. Booker, GI Go Fund Executive Director Jack Fanous, New Jersey Department of Veterans Affairs Deputy Commissioner Raymond Zawacki, Voices of September 11th representative Sheri Burkat, and Newark Fire Director Fateem Ziyad honored the victims and heroes of September 11th, and the men and women who have served since the attacks, with a "Day of Remembrance and Service" ceremony at the First Floor Rotunda at City Hall.
"September 11, 2001, was a day on which we saw and endured unimaginable horror and unimaginable pain," said Mayor Booker. "We saw the very worst of humanity in the terror and destruction, and the very best of humanity in the response of emergency workers that day. Today we honor the thousands of lives lost on 9/11, including five Newark residents, and the courage of the first responders and our military that day and in the years of conflict since then, and the resilience of our entire nation as we remember and rebuild."
"Remembrance is not enough, and we take from 9/11 a call to action and service, and today we are answering that call by joining with Newark youth to manifest our love of fellow Americans who have served and sacrificed on foreign battlefields to protect our freedom, by preparing care packages to support homeless and disabled veterans in Newark. I am proud of how the GI Go Fund and the City of Newark partnered to create this memorable Day of Remembrance, and thank the family of Reverend Sean Booker, who was killed in the World Trade Center on 9/11, for joining us today," Booker added.
On September 11, 2001, our country suffered the worst attack in its history, with thousands of Americans dying in the Twin Towers of Manhattan and the Pentagon in Washington DC. Among the dead where five Newark residents, who sadly lost their lives in a senseless and barbaric terrorist act. In addition, Newark Airport saw the departure of United Flight 93, the lone hijacked plane that failed to reach its intended target thanks to the bravery of the passengers that fought the terrorist off and crashed the plane in a field in Shanksville, PA, saving thousands of American lives.
"Twelve years since that horrific day in Manhattan, in Washington, and in a field in Pennsylvania, the United States of America still stands united, strong, and free," said Jack Fanous. "We owe this to the men and women who showed incredible bravery when it would have been easy not to in the moments following the attacks, and in the months and years that followed. Ordinary men and women, firefighters, policemen, EMS, and our military took a nation that was reeling and mourning and kept us together through their own sheer will. God bless them all, and God bless the American Spirit."
At the conclusion of the ceremony, Mayor Booker and Jack Fanous joined 20 student volunteers from the Newark Educators Community Charter School to prepare care packages for homeless veterans of the Armed Forces, many of whom fought to defend the United States in Afghanistan and Iraq. Supplies for the care packages were provided by Operation Gratitude, a nonprofit organization that has provided over 1 million care packages to active duty military personnel stationed overseas since our involvement in conflicts after September 11th, 2001.
The care packages will be given to homeless veterans in and around the area, including during the Stand Down for Homeless Veterans in Newark on October 12, hosted by the GI Go Fund and Stand Down of North Jersey, Inc.
The country faced its most difficult challenge on 9/11, with its strength and its passion being put through the ultimate test. But America has come through this most difficult time with tremendous success and resolve, and it will never forget those who we lost that day or those who fought to defend it from future attacks.