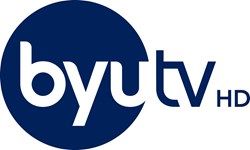 Provo, UT (PRWEB) September 12, 2013
BYUtv, the only nationwide university-affiliated television network, today announced its fall season programming roster. Launching new lineups twice a year, in the spring and fall, BYUtv continues to broaden its primetime offerings, enabling viewers to "see the good in the world" through entertaining shows like YouTube sketch comedy Studio C, Emmy award-winning history show American Ride and music-documentary series The Song that Changed My Life.
"BYUtv is committed to developing and producing content that is suitable for a diverse national audience of all ages, so that families can enjoy watching TV together," said Derek Marquis, managing director, BYUtv. "Our new fall season reflects our continued commitment to entertaining, intelligent and thought-provoking programming, which encourages the celebration of life through music, humor, drama and our collective histories."
The fall 2013 roster features new episodes of returning favorites:

With a record-breaking 10 million views on BYUtv's YouTube channel, Studio C is back with new and returning characters for a third season of irreverent, family-appropriate scripted and improvisational comedy. This half-hour weekly show offers comic perspective on commonplace scenarios – from ethical dilemmas and quirky relatives to roommate quandaries, video gaming and romantic heartbreak. Tune in on October 7th to see how Captain Literally, Lobster Bisque and Ugly Cop fare while being filmed in front of a live studio audience at BYUtv's own Studio C (a state-of-the-art soundstage with stadium seating accommodating live audiences). This season, Studio C introduces sketch music videos, including California pop duo, Mates of State, while Shoulder Angel gets himself into a quandary about telling the truth vs. allowing a white lie, and Shoulder Devil continues to cause chaos and confusion.
Mondays, beginning October 7th, 10 p.m. ET/8 p.m. MT
Sneak preview Saturday, October 5th, 6 p.m. ET/4 p.m. MT
American Ride, BYUtv's unscripted and unconventional series on U.S. history, returns for its fifth season with Emmy award winning host Stan Ellsworth. Exploring the nooks and crannies of American history from the back of his Harley Davidson, the 6'2", 300 lb. former football player Ellsworth tells stories of our nation's unfolding, drawing in viewers of all ages, including those who might not have thought themselves interested in historical programming. America "comes of age" this season during the Post-reconstruction era when our nation worked toward a bright new day for all Americans.
Mondays, beginning October 7th at 9 p.m. ET/7 p.m. MT
Tuesdays bring all-new episodes of The Song That Changed My Life, showcasing the career-defining moments of some of music's most successful artists. Lonestar, the all-male band with pop-country roots, now in their third decade of making music, kicks off the season. Episodes share candid moments and backstage interactions, memories and rehearsals as they relate to a particular song's artistic or personal impact. Past seasons have included anecdotes and music from singer-songwriters Duncan Sheik, Lea Salonga, Jack and White, Howard Jones, Joe Henry and Sara Watkins.
Tuesdays, beginning October 8th at 8:30 p.m. ET/6:30 p.m. MT
Featuring thought-provoking stories of people whose lives changed irrevocably due to one selfless and pivotal decision, Turning Point returns with new specials throughout the year. Illustrating the beauty of transforming personal ideas into action, Turning Point is packed with inspiration and motivation. The first special will air on Sunday, October 6 at 10:30 p.m. ET/8:30 p.m. MT
Emmy Award-winning host and TV journalist Todd Hansen believes even the most ordinary among us have a story to tell. The Story Trek conducts randomly selected door-to-door interviews across the U.S., bringing the funny, intelligent and serious experiences of everyday people to this moving reality show that is packed with poignant moments. Already airing this fall, Hansen's simple query: "What's your story?" creates three stories per week, six minutes each and countless memorable anecdotes.
Mondays 8:00 p.m. ET/6:00 p.m. MT
BYUtv's groundbreaking sports programming includes coverage of more than 125 live NCAA sporting events, 70 studio shows and BYU sports specials such as weekly sports magazine program True Blue, which airs Mondays 8:30pm ET/6:30pm MT
For a complete listing of BYUtv's fall programming visit http://www.byutv.org.
About BYUtv
Owned by Brigham Young University and based in Provo, Utah, BYUtv is a groundbreaking High Definition television network, which has built its roster of original "see the good in the world" programming to fill a void in the primetime market. Amidst the proliferation of TV content, the network's offerings stand out for their thoughtful examination of redeeming elements in our fast-paced, multifaceted world. The topics are varied, hard-hitting and nuanced. Whether through unrivaled live college sports coverage, documentary and feature films, scripted and improvisational comedy, scripted dramas or unscripted reality programs, BYUtv is a vital presence in the contemporary television landscape. Currently, BYUtv is available in High Definition and carried to more than 53 million homes in every state of the country via cable, satellite and multiple digital media platforms including byutv.org, iOS apps for iPhone and iPad, Roku, as well as new apps for Android and a BYUtv channel on the Microsoft Xbox 360 platform (later this year). The non-commercial station's reach is unprecedented at any university in the world, and offers approximately 1,000 hours of original programming annually, including 500 hours of live HD collegiate sports.