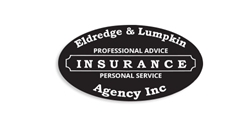 According to FEMA, flooding is the number one natural disaster in the United States.
Chatham, MA (PRWEB) September 12, 2013
Labor Day weekend and the first few days of September have proven to be wet and stormy for Central and Eastern Massachusetts. As a result, flash flood warnings have been issued repeatedly for most of the state, reported the Boston Globe on September 2, 2013. Between the humidity, the wind gusts, hail and heavy rain, homeowners have had their hands full. Flooding can be dangerous for all homeowners, particularly those in flood zones.
According to FEMA, flooding is the number one natural disaster in the United States. Since much of Massachusetts is in a flood hazard zone, homeowners and residents alike are urged to be prepared. This preparation is two-fold:
1. Be prepared with the proper insurance coverage – including flood insurance.
2. Be prepared with proper home upgrades and improvements.
Fortunately, the local agents at Eldredge & Lumpkin Insurance Agency have advice for homeowners looking to prepare on both fronts. First things first, the agents urge homeowners to have a proper understanding of flood insurance, flood zones and a home's risk.

Most flooding occurs in moderate-risk zones
There are two types of flood insurance policies available: Standard Flood Insurance or Preferred Risk Flood Insurance – depending on a home's location, homeowners will have the option of one or the other
Flood insurance is NOT included in a homeowners insurance policy – this type of policy is supplementary to homeowners insurance
Flooding is often caused by runoff from rain and snow – and even mudflow
Homeowners concerned about flooding or in a disaster zone as a result of weather patterns such as the weather Massachusetts has been experiencing are urged to contact the local agents at Eldredge & Lumpkin Insurance Agency to learn more about flood insurance. Additionally, the agency recommends some homeowner preparation in terms of upgrades and improvements:
Doors and windows are the weakest points of a home – be sure they are secure and consider upgrading to storm windows and doors – flooding often brings heavy winds, too.
Always be sure to maintain and repair any cracks in the walls or foundation issues with a home.
Keep gutters clean so that water can quickly drip away from the home in the event of heavy rain or flash flood situations
Perform regular maintenance checks on the roof of the home to check for small damages that can cause major damage during heavy rains and flooding
It is also important to be prepared, as with any emergency situation, for power loss and electrical damage. Battery powered radios are great for disaster situations and having enough drinking water is at the top of the natural disaster preparation list. Any Massachusetts residents seeking more advice about flood insurance can call Eldredge & Lumpkin Insurance Agency at 888-665-2408.
About Eldredge & Lumpkin Insurance Agency:
After more than 80 years in business, Eldredge & Lumpkin Insurance Agency continues to thrive. Serving over 4,000 clients, the agency does not only have experience, but exceptional service. There have been many changes over the years, but the one constant philosophy has been: If we take care of our customers, the business will take care of itself. By paying attention to details, the staff makes sure you get the right coverage that fully protects you. Everyone has unique insurance needs, and the agency has the products and services to meet them.