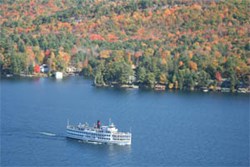 Autumn, the year's last, loveliest smile.
Lake George, New York (PRWEB) September 13, 2013
To quote William Cullen Bryant "Autumn, the year's last, loveliest smile." And he was so right. Fall in Lake George is a beautiful pallet of brilliant mountainsides reflected in the clear waters of the lake. Enjoy lake cruises, area hikes, events, festivals, apple picking, lakeside dining and shopping. The Georgian Resort in Lake George has assembled a variety of Fall Packages including Fall Romance, Fall Cruise, Apple Picking, and Shopper's Paradise packages.
The Fall Romance Package at The Georgian is perfect for enjoying any of the Lake George Fall Events. September 14 and 15 is Jazz at The Lake, a weekend of live Jazz Music hosted by The Lake George Arts Project at Shepard Park - a 5 minute walk from the Georgian Resort on Canada Street. Next up is the exciting Adirondack Hot Air Balloon Festival September 19-22. The fall foliage and colorful balloons make for a spectacular scene. See the full Adirondack Balloon Festival Schedule here. A new Festival for the Lake George area is The Festival for the Lake, September 27-29. This is a benefit festival to help with invasive species control in Lake George. Enjoy live music, carnival rides, a children's zoo, food vendors, bounce houses and more.
For families, the Fall festivals are great fun and many area attractions and events run through mid October. Spotlighted attractions are Fort Ticonderoga and their heroic corn maze, open through October 20, Six Flags Great Escape Amusement Park, open through October 20. Also, enjoy horseback riding, kayak tours, whitewater rafting on the Upper Hudson River, Gondola rides at nearby Gore Mt, and train rides on the Saratoga and North Creek Railroad - all with a backdrop of beautiful Fall foliage.
For foodies, enjoy Lake George area Restaurant Week, September 15-21. Enjoy a 3 course dinner for $20.13 at participating restaurants including the Georgian's own Giovanna's On The Lake restaurant with lakeside dining. Another area event is the Taste of The North Country, September 29th in City Park in Glens Falls.
For additional information, visit the Georgian Resort website or call 800-LAKE-GEORGE.