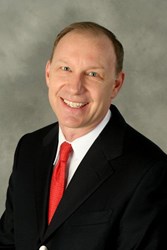 Falls Church, VA (PRWEB) September 12, 2013
Traditional denture candidates in Falls Church can look to Dr. William V. Dougherty III for an improved solution for their missing teeth that delivers the benefits of dental implants and full dentures in a simpler process. The All-on-4 dental implant technique allows Dr. Dougherty to place a series of four implants to act as the base for a set of fixed removable prosthetics, or dentures.
Often, patients with severe tooth loss do not have sufficient bone mass to successfully accept implants but in an All-on-4 procedure, the two rear implant posts can be placed at an angle to offer greater ability for the implant to connect with the natural bone. This is a requirement for the success of any dental implant. This enhances the overall stability of the dental implants and the denture that it will support. It also reduces the need for Dr. Dougherty to provide additional bone support such as a bone graft. With All-on-4, patients who previously would not have been candidates for implants due to a lack of jaw bone density can now take advantage of this option.
The placement of implants with the denture is superior to dentures alone, because the existence of dental implants in the jaw bone prevents resorption of the bone and the resulting jaw misalignment. Another benefit to patients is the ability to have the process completed in dramatically less time than is required for other full-mouth restoration options and with minimal discomfort. All four implants can be placed in only one office visit and often with less cost than one traditional implant. Dentures are more secure when attached to the All-on-4, allowing patients the freedom to eat normally and eliminating the movement sometimes associated with traditional dentures.
Missing teeth used to signal automatic full dentures, but today's modern dentistry opens up a world of new options for patients. Dr. Dougherty is proud to offer the All-on-4 procedure for people who are missing all or most of their teeth. Patients interested in learning more about All-on-4 and whether it may be right for them are invited to visit Dr. Dougherty's office or website today.
About The Doctor
William V. Dougherty, III, DDS is a general dentist offering patients personalized dental care in Falls Church, VA. He is part of one percent of dental professionals providing the most recent FDA cleared laser procedure for gum disease and periodontal treatment. To learn more about William V. Dougherty, III, DDS and his dental services visit his website at http://www.doughertylaserdentistry.com and call (703) 584-7554.