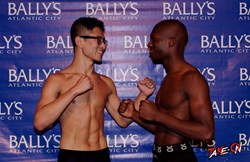 " I think this will be a good test for Keemaan, with the bout being regulated as full rules it will present a challenge. He's never done a fight where knees and elbows were allowed but I'm sure he will adapt. " - Julius Park
(PRWEB) September 12, 2013
Crazy 88 fighter Keemaan Diop has signed to fight for Take On Productions in a full rules Muay Thai bout on Friday September 27, 2013.
Take On Productions is one of the premier Muay Thai promotions located on the east coast. Each year they put on a number of hard-hitting shows that fans of striking and kickboxing rave about. The level of the competitors is some of the toughest that can be found on the east coast at both the amateur and professional ranks. Well-respected gyms know that in order to get the toughest matchups and gain valuable experience fighters must test their progression and skill development on the Take On fight cards.
Take On Productions is scheduled to hold their next event September 27, 2013 at the Resort World Casino with Keemaan Diop making his second amateur appearance inside the ring. Coming off his spectacular victory in his debut, where he won by TKO in the first round. Keemaan is set to take on a bigger challenge by having his bout regulated as full rules Muay Thai contest. Bouts regulated as full rules, allow the fighters to use punches, kicks, knees and elbows to attack their opponent as well as allow the competitors to fight without protective gear such as shin guards and headgear commonly used at the amateur level.
In relation to the fight and Keemaan Diop, head instructor Julius Park stated "I think this will be a good test for Keemaan, with the bout being regulated as full rules it will present a challenge. He's never done a fight where knees and elbows were allowed but I'm sure he will adapt."
For more information on Crazy 88's three Mixed Martial Arts training centers located throughout the Baltimore, MD area, be sure to check out the website at http://www.Crazy88bjj.com and or call at 443-283-1450.