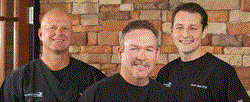 Fort Worth, TX (PRWEB) September 13, 2013
Drs. Terry Zang, Arthur Mund and Justin Mund at Fort Worth Dental are committed to providing Forth Worth patients with the best possible results and process possible when placing dental implants where they may be missing teeth. One way they do this is through the use of cone beam imaging technology. This is a fully-three dimensional system that delivers high-definition panoramic images of a patient's mouth. The clarity of the pictures provided allows dentists to most accurately identify the ideal placement for an implant, greatly reducing any complication or problem during surgery.
Patients will benefit from the use of cone beam x-ray machines, because the time required to capture the necessary images is incredibly minimal. The system works in seconds and records the highest quality pictures possible. It is this combination of speed and quality that makes cone beam imaging highly desired in the preparation of dental implants. Placing an implant is a surgical procedure that requires extreme precision. Improving a dentist's ability to see the bone and underlying structure where there are missing teeth directly improves his or her ability to place the implant properly the first time with minimal disruption.
Because many people fear dental procedures, the ability for the Fort Worth Dental team to offer a simpler part to a procedure can reap huge dividends for patients. In addition to showing bone and gum lines, the cone beam x-ray displays roots and nerves as well. Seeing all elements gives the dentist the chance to work around these more sensitive areas to minimize impact on patients. A customized care plan that protects oral and facial nerves can easily be developed after seeing a cone beam x-ray. Often times, people with missing teeth may be too scared to consider dental implants and this can help make the concept less overwhelming.
Drs. Zang, Mund and Mund understand the value of putting patients at ease as part of delivering good service and great results. You can also visit http://www.fortworthdental.com to learn more about cone beam imaging, implant surgery and other dental services.
About The Doctor
Fort Worth Dental is a general practice offering personalized dental care for Fort Worth, TX patients. Dr. Terry M. Zang, Dr. Arthur J. Mund and Dr. Justin Mund are all dedicated to their dental practice, which offers the recent FDA cleared laser procedure for gum disease treatment. Focused on preventative, restorative and cosmetic dentistry, they each have unique attributes for the practice. To learn more about Fort Worth Dental and their services visit their website at http://www.fortworthdental.com and call (817) 500-0254.